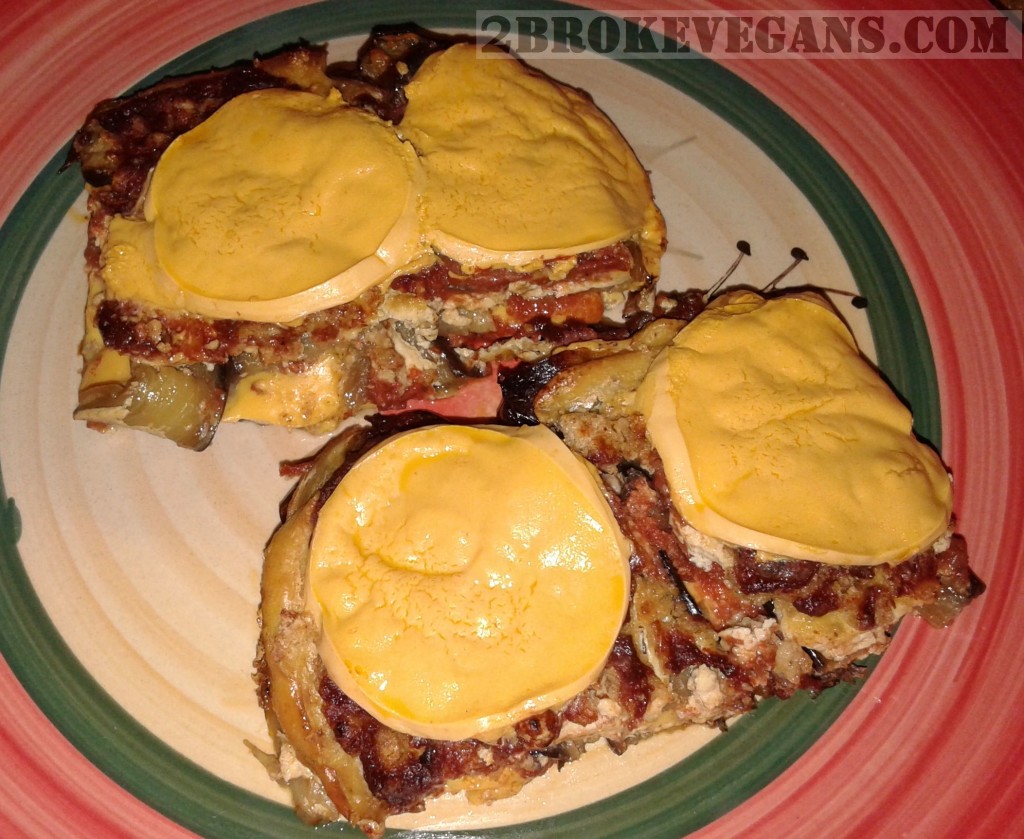 This vegan two layer eggplant lasagna recipe takes a while from start to finish, but it is sure worth it!! You will need to make a lasagna sauce, vegan Parmesan cheese and two batches of vegan tofu ricotta cheese before you can proceed.
For the lasagna sauce recipe click here
For the vegan Parmesan cheese recipe click here
For the vegan tofu ricotta cheese recipe click here
Pre-heat your oven to 160° Celsius (320° F)
Next you will want to wash and slice three medium sized eggplants the long way, vertically. Slice them into thin noodle-like slices. Not too thin that they will not hold together and not too thick either. Coat each slice with a thin layer of olive oil and spread out on a sheet of parchment paper. Put the slices in the oven for 8 to 10 minutes. You want them to begin softening without burning. While they are in the oven coat your lasagna pan with a thin layer of the vegan lasagna sauce and about a tablespoon of olive oil. After the 8 to 10 minutes have passed, remove the eggplant "noodles" from the oven and kick the temperature up to 190° Celsius (375° F) to pre-heat it for the next stage.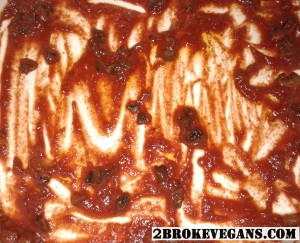 Then, you will begin forming a layer of eggplant "noodles", your goal should be to cover as much of the bottom of the pan as possible without overlapping the eggplant "noodles" much at all.
Next, spread some of the vegan tofu ricotta cheese on each eggplant "noodle". Spread as much as you want (this is why we suggested making two batches of it!).
Now you will want to sprinkle some vegan cheese on top of that. We do not have shredded vegan cheese available to us here in Patra, Greece yet. So we had to use a block of vegan cheddar cheese (no mozzarella available here yet either) and cut chunks off the block. It works just the same but we are definitely jealous of the shredded vegan cheeses available in North America and other parts of Europe.
For this step you will want to sprinkle vegan Parmesan cheese over the vegan cheese. Do so generously!
Now you will add one more layer of sauce over all of that.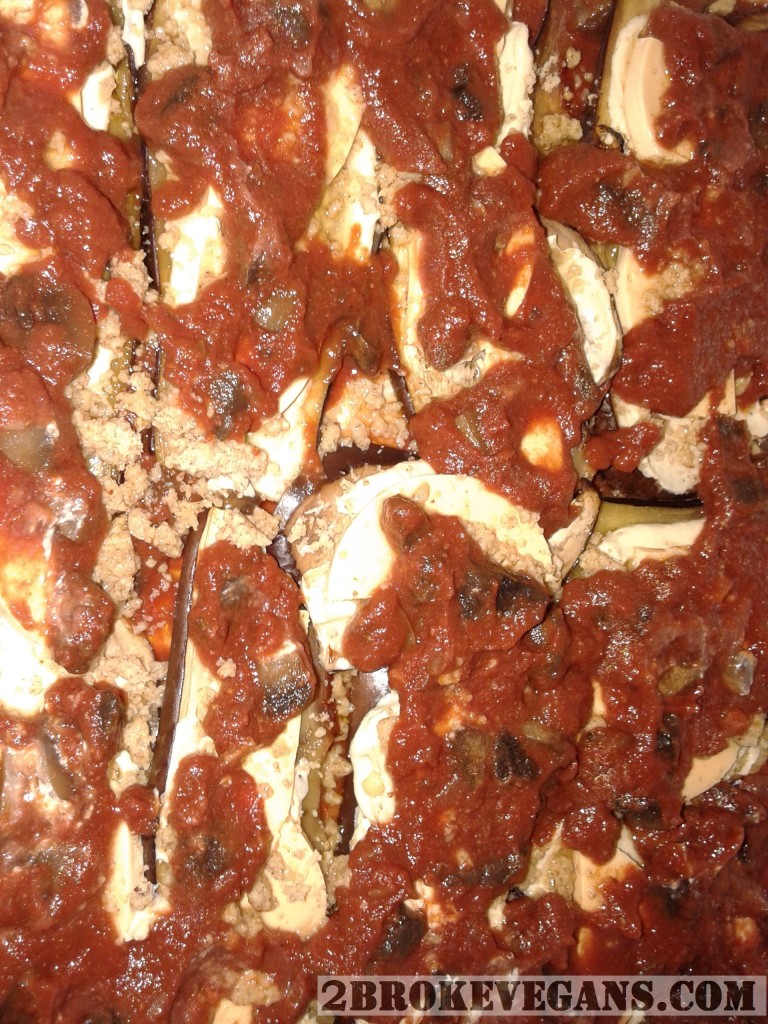 At this step you will add one more layer of eggplant "noodles" and either repeat the above instructions layer by layer if you can afford to or do what broke vegans do… which is make this the final layer!
To make the final layer you will again spread the vegan tofu ricotta cheese generously over the eggplant "noodles". Instead of adding the vegan cheese at this stage though, you will sprinkle the vegan Parmesan cheese, generously (of course!) over the ricotta. Now you will add a layer of sauce and then cover the top with as much vegan cheese that melts and stretches as you can afford!
Finally!! Are you getting hungry yet? Put the lasagna pan into the oven at 190° C (375° F) for 15 minutes. Then kick the temperature down to 150° (302° F) for a half hour (or until your vegan cheese on top has melted and eggplants are soft enough to your liking). Take out of the oven and let it cool for about 10 minutes before you try to eat it. (Eggplant really keeps it's heat for a while so try not to burn your tongue before you get to enjoy this amazing flavor!)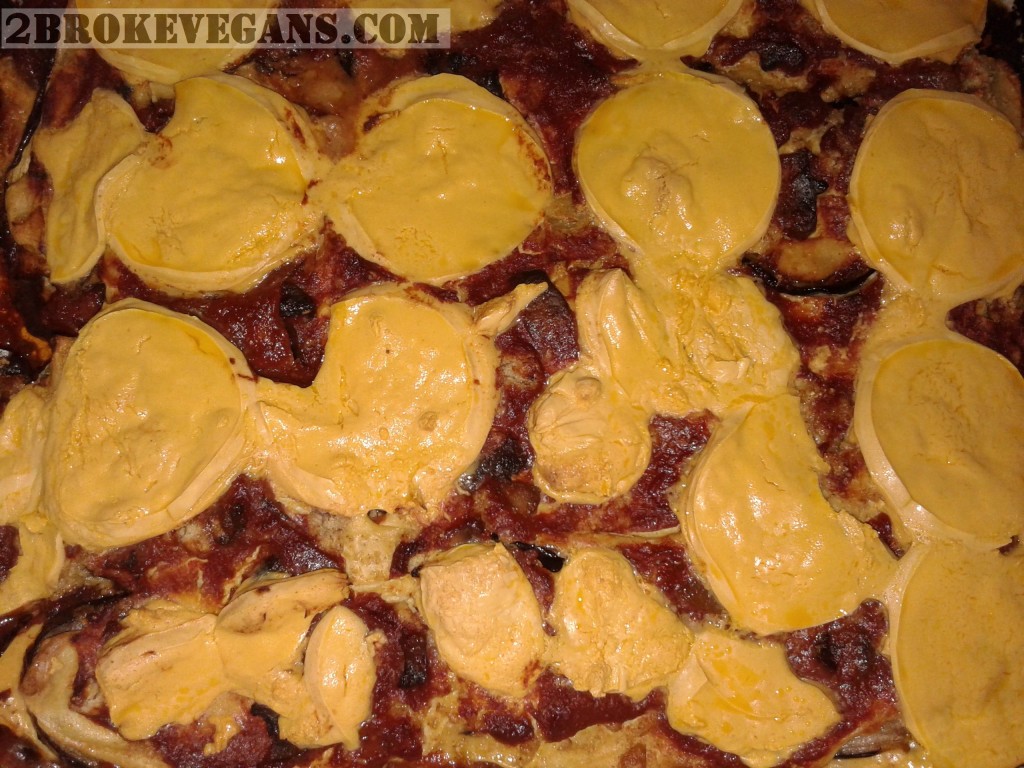 Our cheese does not look as beautiful as a shredded mozzarella but we assure you the taste is perfect! The total amount of vegan cheddar cheese we used for this two layer lasagna was about 10 ounces (283 grams). Enjoy!

Copyright protected by Digiprove © 2014