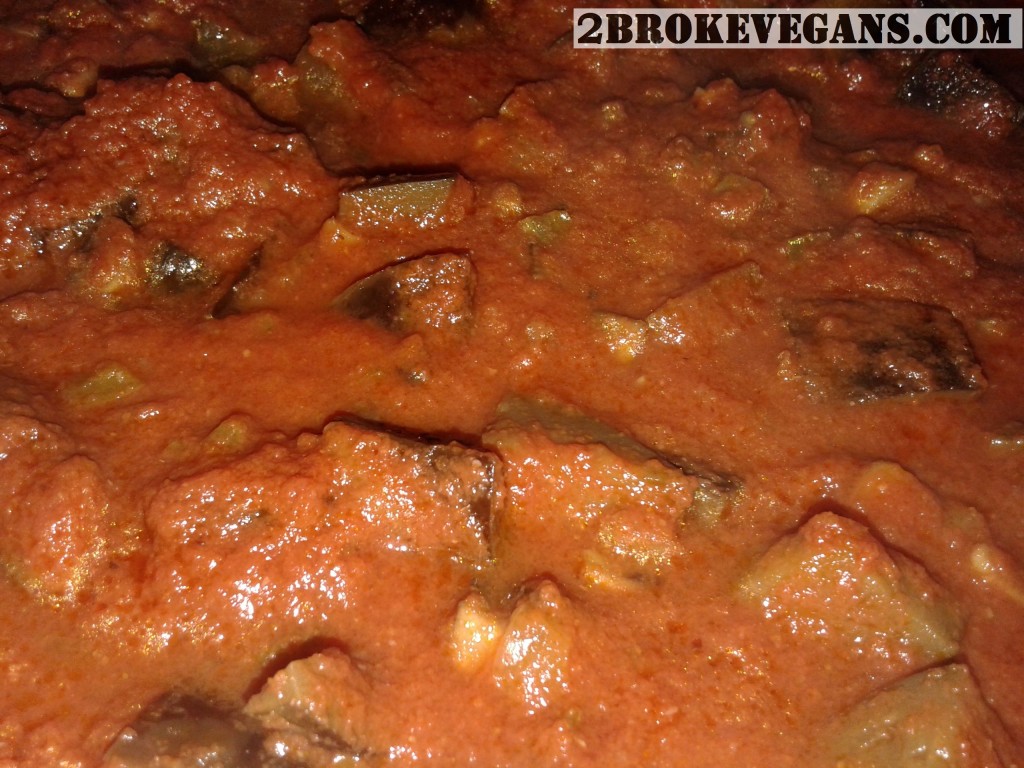 This is a tasty and filling vegan pasta sauce! To make it you should coat the bottom of a large, deep frying pan (that has a cover) with olive oil. Place the pan over medium-low heat on the stove. Once the olive oil is hot enough add these ingredients in the following order and saute them (stirring occasionally):
1/4 cup (50 ml) of chopped or diced red onions
1 garlic clove, minced
2 small eggplants, chopped (split vertically 4 times then chopped horizontally into small chunks)
1/2 cup (100 ml) of diced green peppers
1 cup (200 ml) of chopped mushrooms
1/4 teaspoon of cumin
1/4 teaspoon of vegan worcester sauce
1/2 teaspoon of sea salt
Saute these until eggplants are soft.
Next, in a mixer or blender:
1 Tablespoon of sugar
3 juicy medium sized tomatoes
1/2 Tablespoon of basil – dried
1 Tablespoon of oregano – dried
1/2 teaspoon of parsley – dried
Blend these ingredients until smooth, then pour the blended tomato mixture into the frying pan. Keep frying pan on medium-low heat and cover the pan because the tomato juice will begin to "jump" out of the pan once it heats up. Stir this occasionally for 15 to 20 minutes. That's all there is to it! It's delicious and worth the effort!