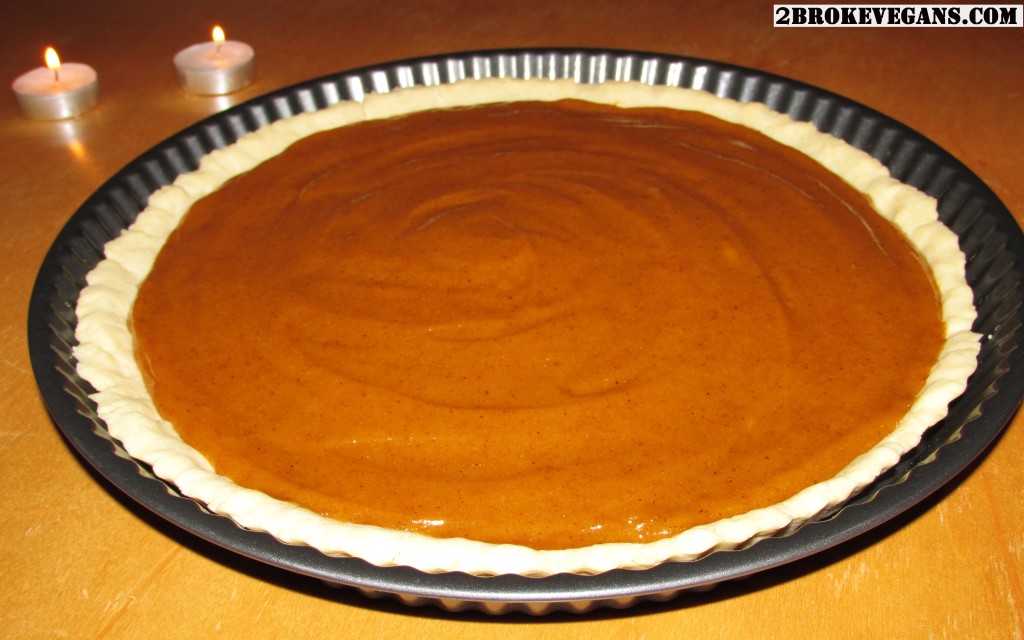 What better way to wrap up our vegan Thanksgiving recipes than doing a gluten free vegan pumpkin pie? This is a very quick and easy way to make a pumpkin pie flavored filling that is actually raw and vegan! The crust is more like a traditional pie crust but it is gluten free and vegan! Here is how it's done:
Ingredients for the crust:
2 1/3 cups (320 grams) of all purpose self-raising gluten-free flour
7 Tablespoons of cold vegan butter
1/4 teaspoon of sea salt
1 Tablespoon of organic raw cane sugar
8 actual Tablespoons of cold water
In a bowl, mix the flour, sea salt, sugar and butter. Work with your hands until the butter and the flour are mixed. It should become crumbly. Next, you will pour the cold water spoon by spoon into the mixture. Continue working the dough with your hands and fists until it becomes consistent.
Once the dough becomes consistent move it into a pie pan (ours is 26 centimeters or 10 inches; this amount of crust was ideal) and patiently spread it to cover the whole pan. With a fork, poke holes on the bottom of the crust so it will bake nice and evenly. The heat distributes nicely throughout the crust this way. Put it in the oven at 160° Celsius (320° F) for 8 to 11 minutes to bake it. The crust is about done when it blushes a bit and gets a hint of color. Take it out of the oven, you now have a gluten free vegan pie crust! Set aside and get ready to make the pumpkin pie filling.
In a high powered blender, add these ingredients for the raw vegan filling:
1 cup of maple syrup
1/2 cup of agave nectar syrup
1 cup of solidified coconut oil
2 cups of grated or shredded raw carrots
1 cup of raw cashews
1/2 Tablespoon of vanilla powder
2 teaspoons of ground cinnamon
2 teaspoons of ground nutmeg
1/2 teaspoon of dried thyme
2 teaspoons of xanthan gum (it is very important to not add this until everything else has been blended smoothly!)
Add all the ingredients except the xanthan gum and blend as smooth as possible. Once you are satisfied with the texture of the mixture, add the xanthan gum and blend until the filling thickens up a bit.
Spread the pie filling over the crust and refrigerate. It works best to keep in the refrigerator overnight but it should become thick enough to eat after only a few hours.
Wait, a pumpkin pie without using pumpkins? Am I crazy? Maybe, but it does work and is very convincing! I have nothing against pumpkins, I promise! However, with so many other foods to prepare for Thanksgiving, it is nice to have a quick and easy pie recipe! Enjoy this delicious mock pumpkin pie with the whole family and have a Happy Thanksgiving!

Copyright protected by Digiprove © 2014