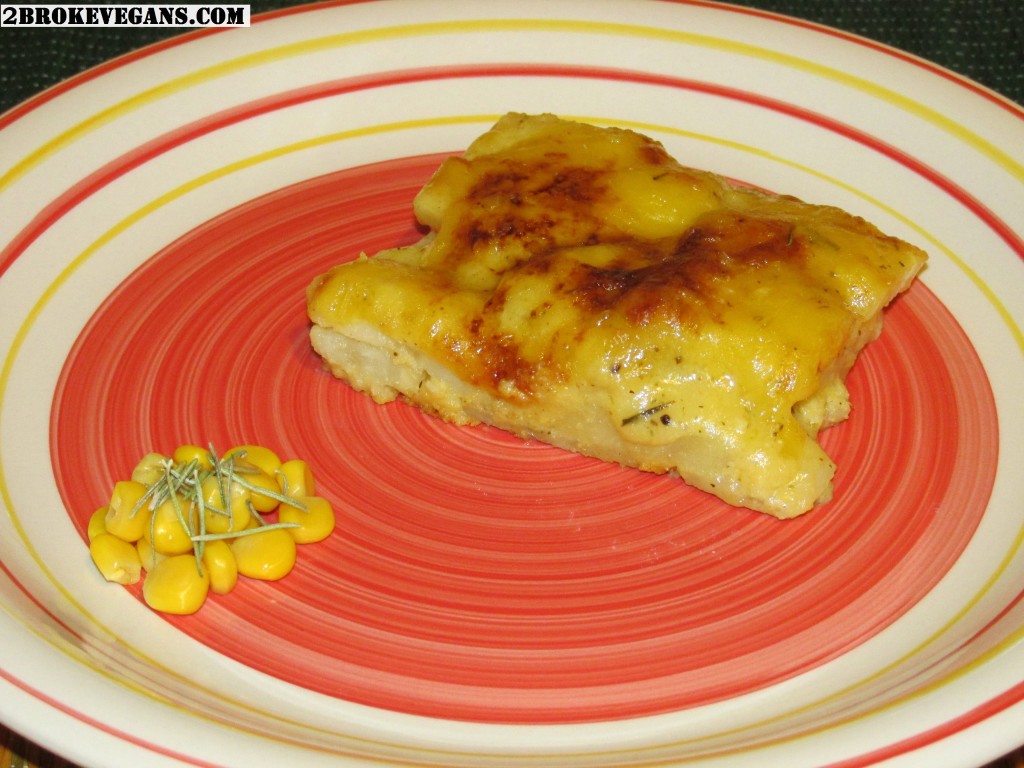 It is one of my favorite weeks of the year, American Thanksgiving! I miss the Thanksgiving days of old already and it is only my first year away from the United States. There is nothing quite like waking up to the sweet smells of Thanksgiving dinner filling the house from the oven! To me, Thanksgiving is about family, filling our bellies and watching American football games on television. I have been a vegan for years now but that does not mean I still do not find ways to celebrate Thanksgiving! So, in honor of Thanksgiving week I will be posting some of my favorite vegan Thanksgiving foods. First up? Vegan scalloped potatoes!
Wow! I pulled it off, I cannot find the words to describe how much I have missed scalloped potatoes during my vegan years. I remember my Grandma's scalloped potatoes. They were so good and she was the kind of old school cook who would prepare a full seven course meal when the family got together! I cannot understand how she was able to prepare so much delicious food in such a short amount of time! Much of her food remains an inspiration to me as I continue trying to veganize some of my favorite foods from my childhood. Let's get started…
Ingredients:
5 large potatoes, sliced thinly (but not too thin). There should be substance to the potato but they must be able to cook thoroughly..
1 Tablespoon of olive oil
6 Tablespoons of vegan butter
6 Tablespoons of corn flour (not to be confused with corn starch!)
2 Tablespoons of nutritional yeast
3 cups of vegan milk (soy milk, almond milk, rice milk, etc.)
3 teaspoons of sea salt
dash of ground black pepper
2 teaspoons of dried rosemary
2 teaspoons of dried oregano
1 teaspoon of organic mustard
1/4 cup of chopped fresh red onion
1 garlic clove, minced
dash of paprika
4 cups of grated or shredded vegan cheese
Wash and slice your potatoes. We peeled ours for this recipe but that is a personal choice. Set aside.
For the vegan cheese sauce you will need a medium to large sauce pan. Begin by adding the olive oil and vegan butter. Place the pan over medium-low heat to melt the butter. As soon as the butter begins melting add your garlic and onions. Stir. Next, add the nutritional yeast and corn flour. Stir. Now, add the vegan milk but whisk instead of stir. Then, add all the seasonings, mustard included. Whisk. Finally, add only 2 cups of the vegan cheese and whisk until it melts and the sauce is smooth. You will use the other 2 cups of the vegan cheese later.
Pre-heat your oven to 175° Celsius (350° F)
In a large, deep pan, coat the bottom with a thin layer of olive oil. We used a pan that was 12 inches long (about 30.5 cm) by 10 inches wide (about 25.4 cm) and 3 inches deep (about 7.6 cm). Begin by placing some of your sliced potatoes on the bottom of the pan to form a layer of potatoes. Then, pour 1/3 of your sauce over them evenly. Form one more layer of potatoes and pour another 1/3 of sauce over them. Finally, form your last layer of potatoes and pour the rest of the sauce over them. Spread the final 2 cups of vegan cheese over the top of it all and place the pan in the oven for 45 to 60 minutes. The top layer of vegan cheese should just begin browning with color. We baked ours for 60 minutes and they were soft, held together perfectly and delicious!
Happy Thanksgiving in the United States!

Copyright protected by Digiprove © 2014