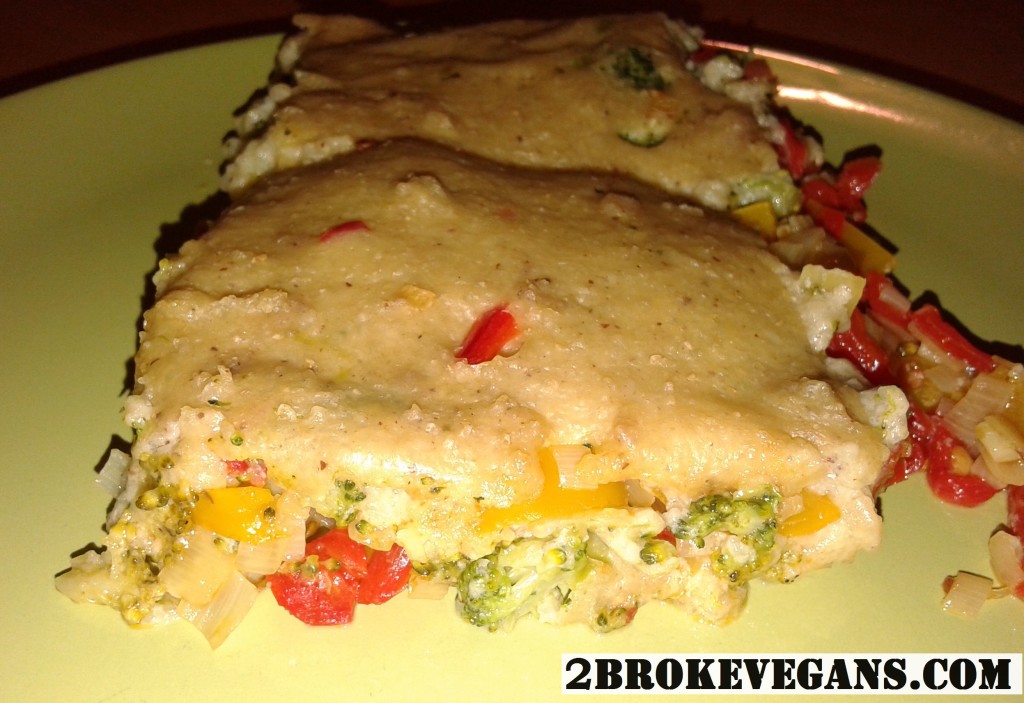 I can't stop bragging to whomever wants to hear it, that I made a vegan, gluten-free μπεσαμέλ (Béchamel)!!! Béchamel is a thick, white sauce used in Greek kitchens to go on top of mousaka (μουσακάς!!) and many other dishes! Here we used it for our buddy: Broccoli Peppers the Souffle!
It was about time I figured out how to do it!!!
I found semolina made out of rice. Semolina is a "coarse, purified wheat middling from durum wheat" according to Wikipedia. I have used it in making sweets, creams and similar things. Semolina works like no other ingredient. You boil vegan milk, remove the sauce pan from the heat, pour in the semolina and whisk (and whisk and whisk some more). Then you put the pan back on lower heat (and never stop whisking) and out of nowhere the vegan milk becomes a thick cream!
Without the stickiness of gluten, we have to try a lot! But rice semolina worked perfectly 🙂
It also allowed me to create a μπεσαμέλ (Béchamel), which I poured over the vegetables and cooked in the oven, tah-dah, a souffle! 🙂
I know, I know, this blog is like a "weird" words class today 😛
Here is what you will need for the souffle:
1 leak, chopped
3 green onions, chopped
2 broccoli
2 red peppers
1 yellow pepper
2-3 garlic cloves, minced
1 teaspoon of chili pepper flakes
olive oil
vegan butter
sea salt
Boil the broccoli ( mine were rather small…beware of the mighty broccoli!! ) in salted water for 5 to 10 minutes, keep the flowery part. Chop the larger chunks in small pieces 🙂
In a small sauce pan coated with vegan butter, add the finely chopped leak, green onions and the minced garlic cloves; put on medium heat to saute for a couple minutes. Add the peppers, which I chopped in medium size slices (they were more interesting this way), saute until they soften up. Near the end, add the chili pepper flakes and sea salt!
In another sauce pan add:
500 ml of vegan milk (soy milk, almond milk, rice milk, etc)
1/2 teaspoon of sea salt
Bring to a boil. I understood this vegan milk was "boiling" when it got somewhat bloated. Do not cover with a lid, you are in danger of "milk overboard!" (a potential mess). Do not be a disaster waiting to happen like we are. I suppose everybody learns somehow, we learned with a mop and a towel hey, gotta keep a clean kitchen, right?
The semolina should have a how to guide, but the basic way to do it is:
When the vegan milk "comes to a boil" you remove it from the heat and preferably have someone else pour 5 tablespoons of granulated semolina so you can keep whisking. You whisk constantly and when the semolina is all in the pan you put the sauce pan back on low heat, whisking non-stop for 5 minutes. I did mine this exact same way and it became a thick cream! Then I poured in 2 tablespoons of nutritional yeast.

In a pan, I tossed my vegetables all together, on top of them I poured the thick, white sauce and sprinkled lots of vegan Parmesan cheese. Then, I placed in the over for about 15- 20 minutes at 160° Celsius (320° F). I was hoping the Béchamel would get some color, but this is just a dream in the gluten free world.
Sprinkle some smoked salt on top and the food is ready to be served 🙂