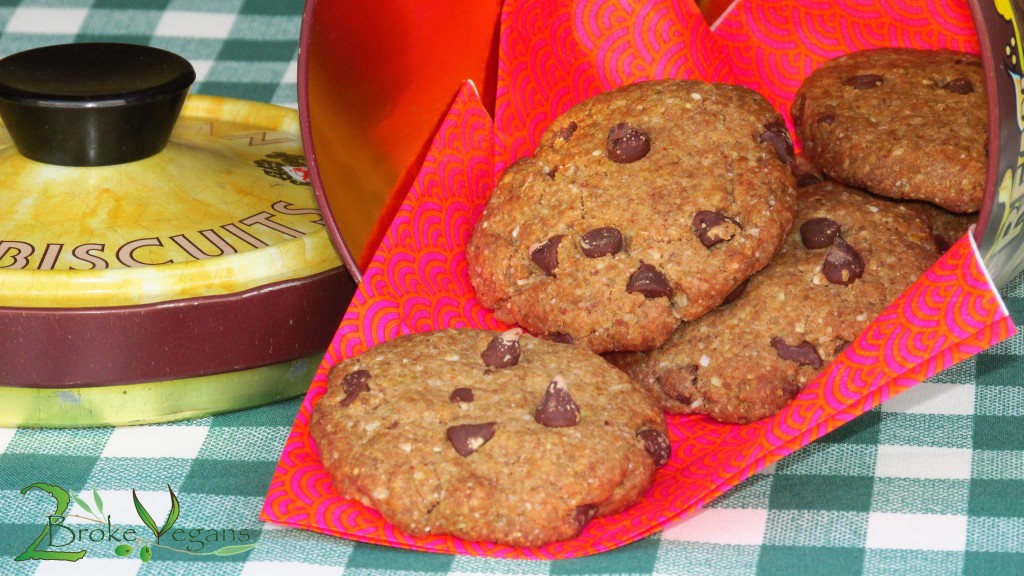 I don't think I've ever met a cookie I didn't like; not even tough cookies (you know you're out there). I felt like enjoying some tasty cookies but I wanted to bend the rules a bit while making a new recipe at the same time. This is always risky business in the kitchen but this time the gamble paid off. I ended up making these amazing buckwheat chocolate chip cookies which are basically a gluten free version of oatmeal chocolate chip cookies. As we have said before, it is not easy for us to find rolled oats here but we found and have been using buckwheat flakes for a lot of things instead. I have really grown to love these little buckwheat flakes; they're great! I also did something bold when it comes to cookies; I used coconut oil instead of vegan butter or margarine and it worked! What can I say? Sometimes that's just how the cookie crumbles.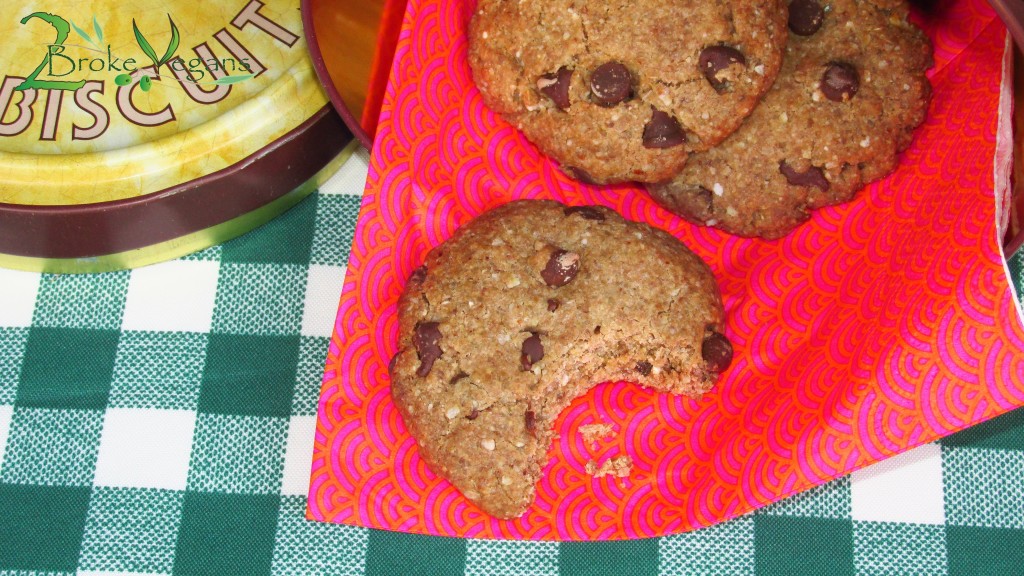 Ingredients for 12 cookies:
1 cup (160 grams or 5.65 ounces) of all purpose gluten free flour (this is what we used: click here in North America or click here in Europe)
1 cup of buckwheat flakes (90 grams or 3.17 oz)
1 teaspoon of baking soda
1 teaspoon of baking powder
1/4 teaspoon of xanthan gum or guar gum
1/2 teaspoon of ground cinnamon
1/8 teaspoon of ground nutmeg
1/4 teaspoon of pink Himalayan salt
1/4 teaspoon of vanilla powder (or 1 teaspoon of vanilla extract)*
1 Tablespoon of ground flax seed powder
4 Tablespoons (1/4 cup) of water
1/2 cup (100 grams/3.5 oz solid or 120 ml liquid) of coconut oil
3/4 cup (180 grams or 6.35 oz) of organic raw cane sugar
1/4 cup (50 grams or 1.76 oz) of vegan chocolate chips (we used these: click here in North America or click here in Europe)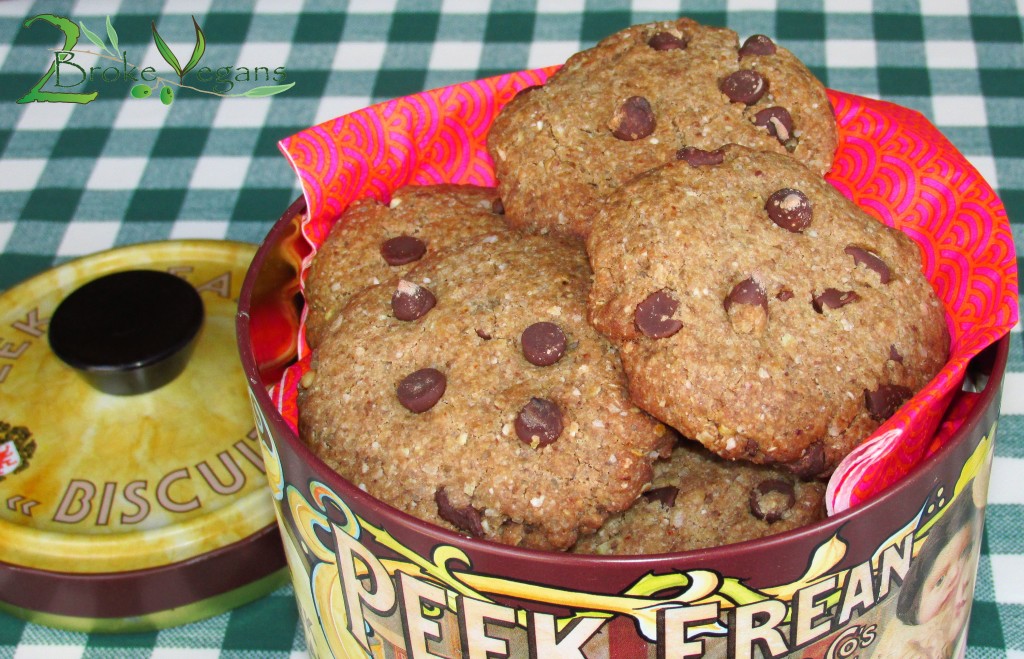 Instructions:
Pre-heat oven to 175° C (347° F). We used convection mode on our oven.
Whisk the following ingredients in a large bowl: flour, buckwheat flakes, baking soda, baking powder, xanthan or guar gum, cinnamon, nutmeg, Himalayan salt and vanilla powder (do not add extract at this step if you are using extract instead of vanilla powder).
In a small bowl combine the water and ground flaxseed powder. Whisk until mixed thoroughly and set aside for 5-10 minutes.
In a large mixing bowl, combine the flaxseed/water mix, coconut oil and raw cane sugar. Use a powered mixer to beat the mixture until it becomes smooth or mixed thoroughly.
Add the mix from step 2 into the flaxseed/water/coconut oil/raw cane sugar mixture. If you are using vanilla extract instead of powder add it now. Continue beating with powered mixture until it is mixed thoroughly. Scrape the excess powder off the insides of the mixing bowl and guide it into the mixture as the powered mixer is doing it's job.
Remove the powered mixer and add the chocolate chips. Mix the chocolate chips in with your hands until they are distributed evenly in the cookie dough.
On a sheet of parchment paper, form your cookies. Make them into a traditional cookie shape as this dough does not flatten when baking. They do expand a little bit so leave some space between cookies on the paper.
Bake the cookies for 7 minutes. Remove from oven and place on a cooling rack. Allow some time to cool before eating them.
Watch the cookies disappear!

Copyright protected by Digiprove © 2015