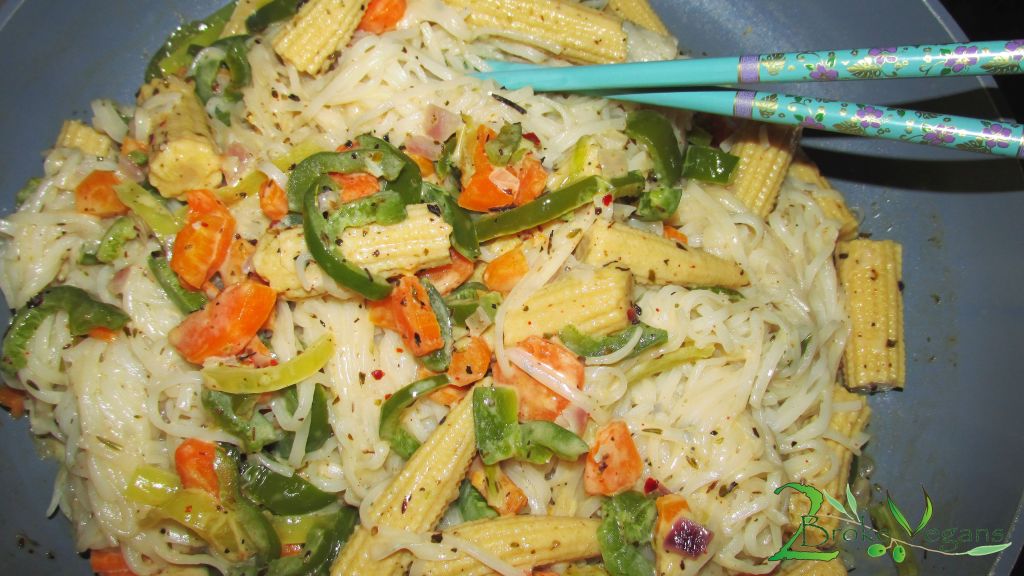 One of our favorite things to make this past year has been variations of stir fry. Not too long ago we posted this delicious gluten free vegan stir fry recipe. Neither one of us had much experience with making stir fry before recently. So, we listened to all the great advice given to us by Viva Las Vegans making the task easier with each attempt! This time we wanted to try a creamy stir fry and we loved this dish very much!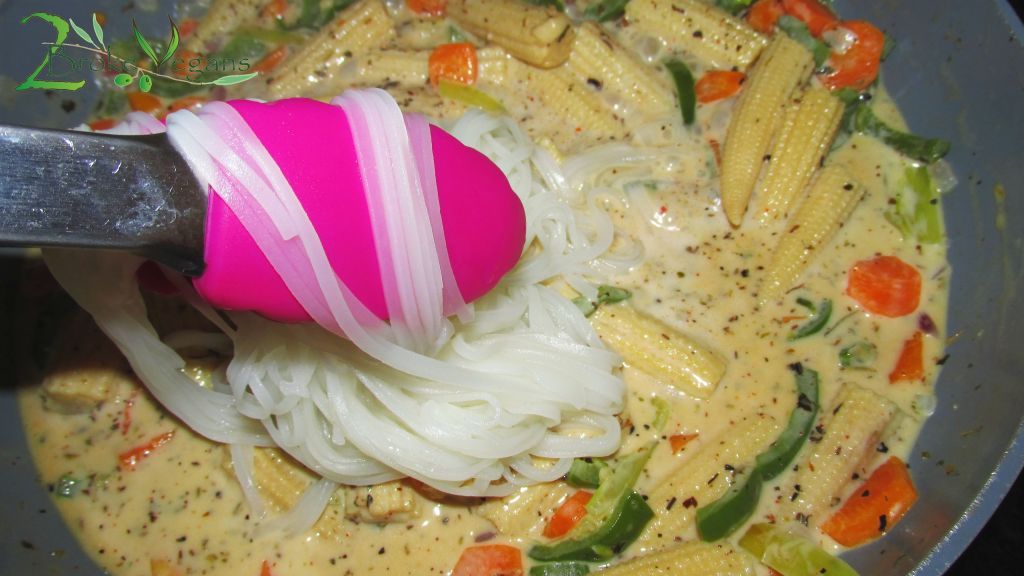 Ingredients for the vegetables:
2 Tablespoons of vegan butter
2 Tablespoons of coconut oil
2 cups (400 ml) of coconut cream
3 medium sized green peppers, sliced
1 medium sized red onion, sliced
1 cup of carrots, sliced
8 ounces (230 grams) of baby corn, drained
Sliced jalapenos (optional)
Ingredients for the cream:
1/4 teaspoon of garlic powder or 1-2 garlic cloves, minced
1/4 teaspoon of paprika
1/4 teaspoon of thyme, dried
2 teaspoons of sea salt
1/2 Tablespoon of basil, dried
1/2 Tablespoon of oregano, dried
1/2 teaspoon of apple cider vinegar
1/2 teaspoon of liquid smoke
1/4 teaspoon of red pepper flakes
Boil 18 ounces (500 grams) of gluten free rice noodles and strain them
Instructions:
Add the vegan butter and coconut oil to a large frying pan. Place the pan on the stove over medium heat until butter has melted. Whisk.
Add the onions with a pinch of sea salt. Sizzle for 2 minutes.
Add the carrots, green peppers and baby corn, stir occasionally for 5-10 minutes or until carrots have softened a bit.
If using garlic cloves, add them now for 1 minute. Skip this step if using powder.
Add the coconut cream, vinegar and seasonings. Keep stirring occasionally for 3-5 minutes.
Add the boiled noodles and stir for another 3-5 minutes.
Remove from heat and serve. Garnish with some sliced jalapeno peppers if you like some spice.
This stir fry turned out great for us (which is why we ate it all in one day). The flavors really combine well and leaves each taste bud experiencing the depth while craving more! Who says you need MSG for great flavor in a stir fry? Not us!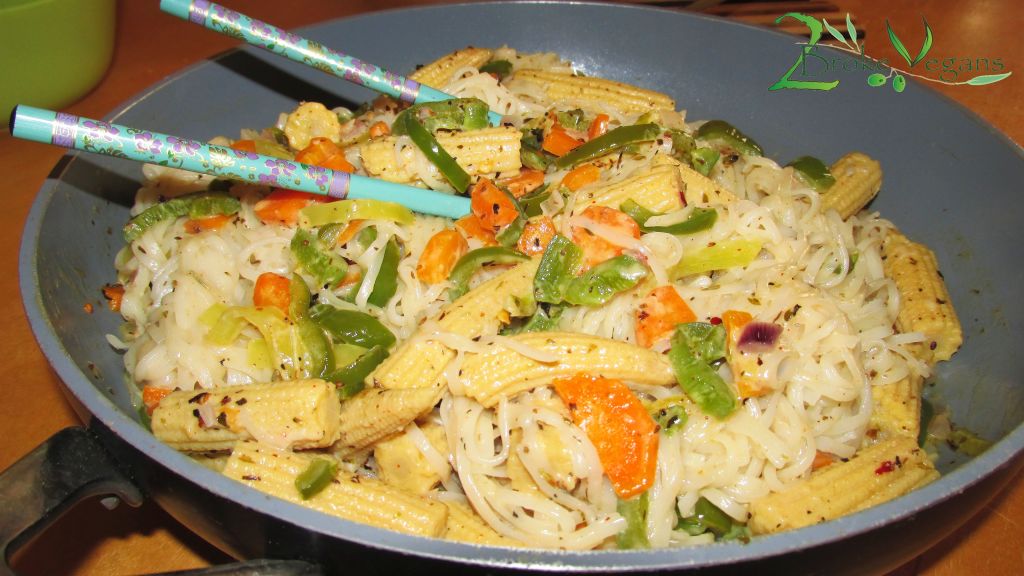 Copyright protected by Digiprove © 2014