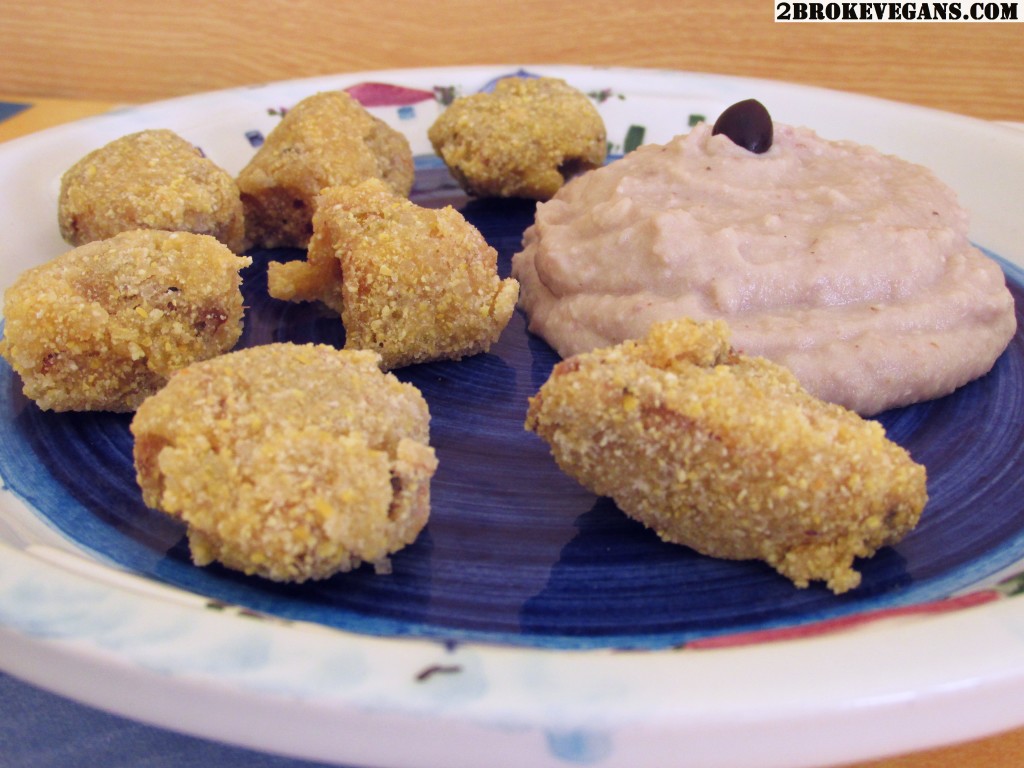 On the 25th of March, here in Greece, we always eat skordalia! This is an extra garlicky condiment only for those who love garlic! They also serve it with fried fish, but I replaced it using eggplant pieces. These fried eggplants with Greek garlic sauce were delicious and brought back memories! 🙂 You can adjust the garlic quantity but be aware, your breath will smell!
Ingredients for the skordalia (Greek garlic sauce) (click here to see the source of this recipe):
2 potatoes peeled and boiled
1/2 cup of walnuts
2-4 garlic cloves, chopped
olive oil
the juice from one lemon
sea salt
Ingredients for the fried eggplants:
1-2 eggplants peeled and chopped into cubes
2 Tablespoons of grated tomato
1/2 cup of rice flour
1/2 cup of corn flour (not corn starch!)
1 teaspoon of sea salt
olive oil
1/2 cup of almond cream
Instructions for the skordalia (Greek garlic sauce) (click here for the source of this recipe):
In a Vitamix, blend the walnuts until they are a powder, then add 3 tablespoons of olive oil, 3 tablespoons of lemon juice and the garlic cloves. Blend until smooth, then empty in a bowl. After this, blend the boiled potatoes until smooth, adding as much sea salt as you want. When it is creamy, add the walnut paste, blend and taste to add as much olive oil and lemon juice as you prefer. Empty in a bowl and store in the fridge for an hour for the flavors to come together.
Instructions for the fried eggplants: Cover the eggplants with some olive oil, the grated tomato, some sea salt and basil. Spread them out on some parchment paper and bake at 170° Celsius (338° F) until they are soft.
Pour the almond cream in a bowl.  On a plate, mix the rice flour, corn flour and sea salt. Dip the eggplants in the almond cream and then in the flour mix.
In a small sauce pan add enough olive oil to barely cover how high the eggplant cubes will be. Heat on medium heat and when it is hot enough, add the floured eggplants. Deep fry them for 30 seconds until the crust is gold and crunchy.
Dip the eggplants in the skordalia and say "Γειά μας!" (To health!) 🙂

Copyright protected by Digiprove © 2014