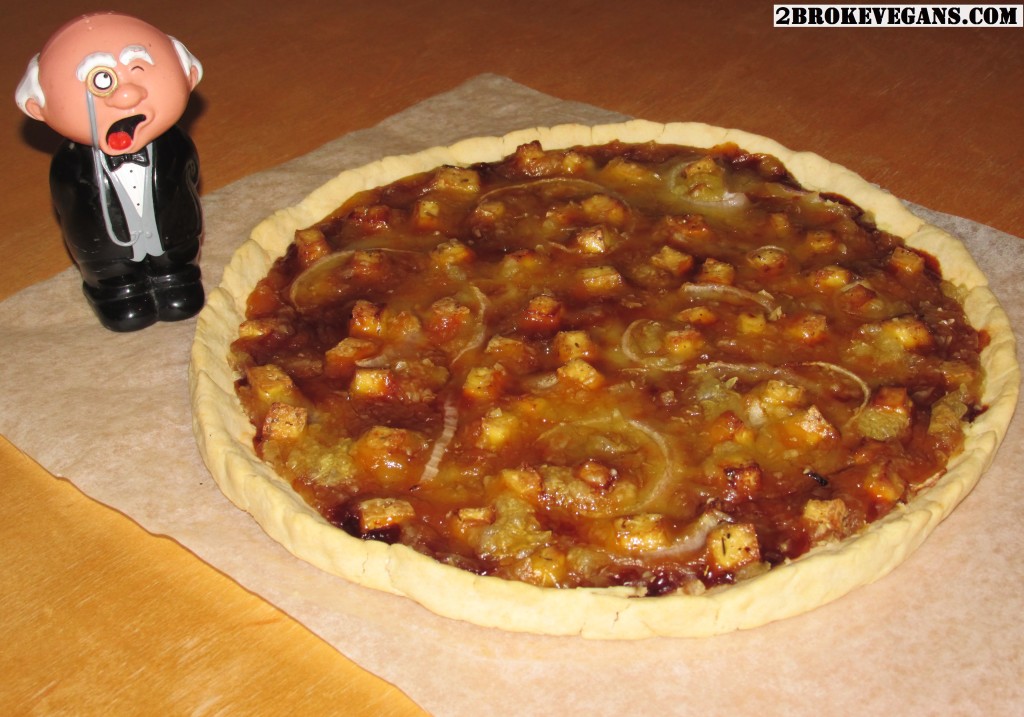 My siblings and I grew up on pizza. When we were kids, every weekend we would meet my Grandparents for pizza. My Grandpa loves pizza and I think it's safe to say that got passed down to us all! I had tried every pizza you could probably imagine up to the point where I became a vegan. Now I find myself trying to recreate some of my favorites. The world needed a great gluten free vegan BBQ chicken pizza and I was determined to make it happen! Here is how I did it…
You will need to prepare your gluten free vegan pizza dough. For this recipe, we used our Easy Gluten Free Vegan Pizza Crust (click here for recipe). Once you shape your crust from the dough and pre-bake it, set it aside.
Next, I had to make the vegan chicken from tofu. The tofu chicken needs to have a specific flavor to mesh with the barbecue sauce flavor.
Here are the ingredients for the tofu chicken:
2 Tablespoons of vegan butter
2 Tablespoons of olive oil
2 teaspoons of gluten free vegan Worcester sauce*
1 garlic clove, minced
1/4 teaspoon of sea salt
1/4 teaspoon of dried thyme
200 grams (1 1/2 cup) of organic tofu, chopped into medium to small cubes
*About the Worcester sauce, if you cannot find this, Tamari would work as a substitute but try to find the Vegan Gluten Free Worcester sauce if you can.
In a large frying pan, add the olive oil, vegan butter and Worcester sauce. Place the pan over medium heat on the stove. When the butter melts, add the minced garlic, sea salt and dried thyme. Stir. Then, add the tofu chicken cubes. Leave the tofu chicken cubes on for 6 to 7 minutes or until they are browning on the side contacting the pan. Then attempt to flip them to another side for another 6 to 7 minutes. Use something like a long fork, spatula or tongs because the oil and vegan butter will be sizzling! Once you have two brownish sides of each tofu cube, remove from heat and set aside.
Preheat your oven to 160° Celsius (320° F)
Take the pizza crust you set aside earlier and pour as much gluten free vegan BBQ sauce (click here for our BBQ sauce recipe) in the middle of it as you desire. Spread it as evenly as you can with a spoon or utensil of your choice. Next, add as much shredded or grated vegan cheese as you desire. You may slice some fresh red onions like we did at this point, but the onions are optional. If you do want onions, toss as many as you would like on top of the vegan cheese. Otherwise, just add as many tofu chicken cubes as you desire on top of the vegan cheese. You might use all of the tofu chicken cubes, that's ok. We used about 75% of the 200 grams and refrigerated what was left to be used on a salad or something else later.
Finally, put the pizza in the oven. We always leave it on the parchment paper to keep a clean oven.  Keeping in mind we pre-baked the crust before adding the toppings for about 3 minutes; we baked our gluten free vegan BBQ pizza for about 22 minutes. Depending on your oven, this pizza crust should be done between 18 to 25 minutes. The outer crust should not be burning, maybe gain a little color… but try to avoid it gaining much color at all. That's all there is to it! It's very, very delicious!

Copyright protected by Digiprove © 2014