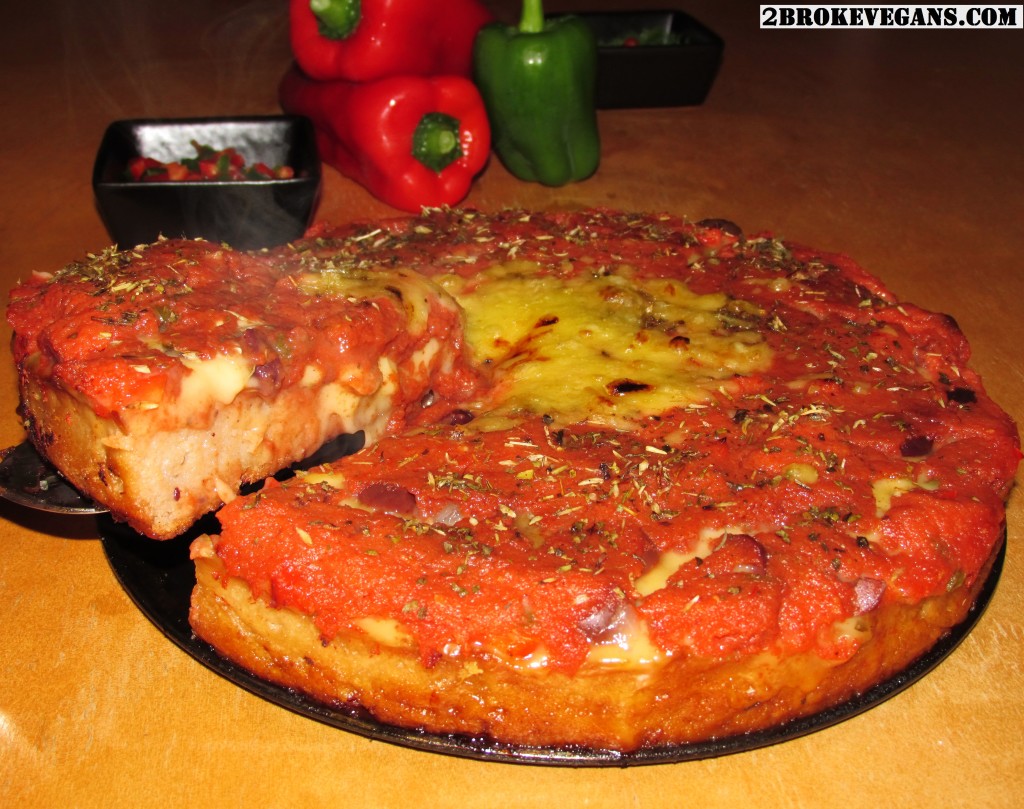 Both Athanasia and I had been craving deep dish pizza lately. I had tried making and developing a recipe for this using buckwheat flour in Minnesota without much success. I find buckwheat makes a better cake flour than dough flour. It was about time to try again! To my pleasant surprise, we now are able to share this gluten free vegan deep dish pizza recipe with you!
Ingredients:
1 cup (200 ml) of warm water*
2 Tablespoons of ground flax seeds with 6 Tablespoons of water
2 teaspoons of sugar
2 teaspoons of gluten free organic yeast
1/2 cup (100 ml) of sunflower oil*
2 teaspoons of sea salt
3 cups of gluten free self raising all purpose flour (We use Dove's Farm Gluten Free Self Raising Flour – click here to order in North America OR click here to order in Europe)*
It's a good idea to mix the ground flax seeds with all of the water in this recipe. I pour room temperature water into a high powered blender with the ground flax seeds and blend until the water is warm.  It should not be too hot, right around 43° Celsius (110° F) is the goal. This process also allows the flax seeds to become smoothly blended into the water.
Next, pour the flax seed water mixture into a large mixing bowl. We used a powered mixer to allow air to aerate the mixture. Turn on the mixer on a medium to high speed and pour the yeast in. Keep the mixer on until yeast has dissolved into the water and foamy bubbles appear along the surface of the mixture. Turn off the mixer and allow mixture to stand for 5 to 10 minutes.
After the time has passed, turn the mixer back on a low speed. Add the sunflower oil and sugar. I use sunflower oil for this recipe because a deep dish pizza is cooked at an extremely high temperature which sunflower oil is better suited for than olive oil. Finally, pour in the flour little by little until it is all mixed in. If there is flour clinging to the sides of the mixer use something to scrape it off so it can be mixed in. Once your dough is mixed empty it into a bowl or cover the mixing bowl with a towel to allow the dough to rise for an hour or two.
Once again, after the time has passed, preheat your oven to 230° Celsius (446° F). Put a layer of vegan butter along the sides and bottom of your deep dish pizza pan. Press the dough down into the pan. Sometimes it works better to get your gloves or hands wet with water so a dough like this does not stick to you! Press it from the center out until it reaches all sides of the pan. Form a little pocket indentation area in the middle of the dough.
Prebake the deep dish crust for 10 to 12 minutes. It should form a nice golden color without burning. It may bubble up in the middle a little bit too, but this is ok. Remove from the oven and get ready to make pizza Chicago style!
You begin by forming a layer of shredded vegan cheese, use as much as you would like and spread it to all the edges! Then, add your toppings. We used a lot of sliced black olives, some sliced mushrooms as well as diced red and green peppers. Last but not least, pour your pizza sauce over the top of it all and spread it as smooth as you can all the way to the edges. For a great pizza sauce recipe click here! We added some more vegan shredded cheese in the middle of the pizza on top of the sauce for some style, this is optional (but delicious).
Place the pizza into the oven for 12 to 15 minutes but be careful because it is heavy for a pizza! Remove and allow pan to cool a bit before removing the outer ring of the pan. Serve and enjoy!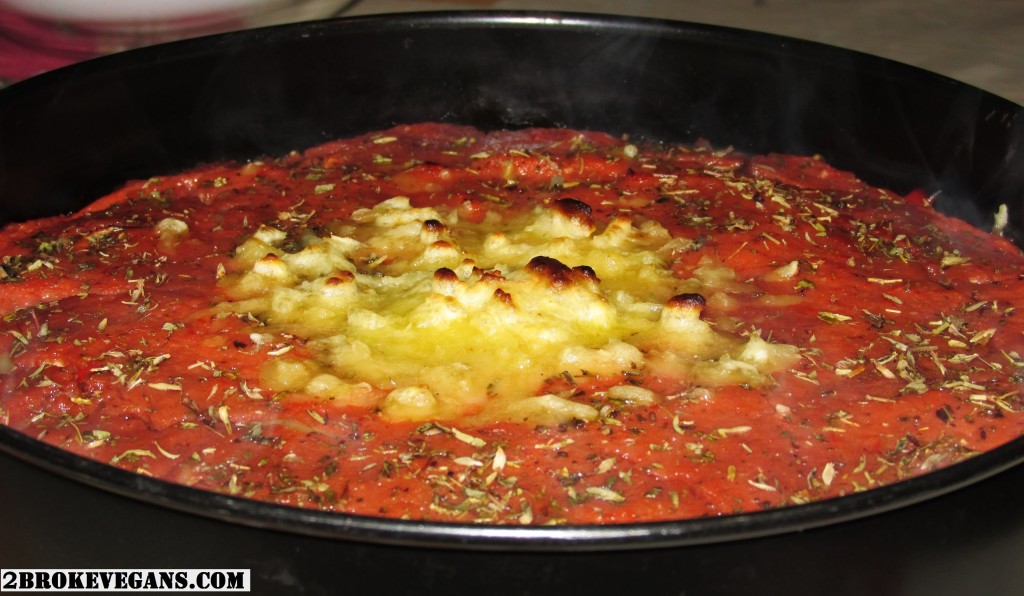 *Special note about our cup measurements: We recently became aware there are different cup measurements used throughout the world. We happen to have the measuring cup most commonly referred to as the "Japanese cup" (1 cup = 200 ml). For example, in the United States 1 cup = 236 ml.
Click here for more information
.

Copyright protected by Digiprove © 2014