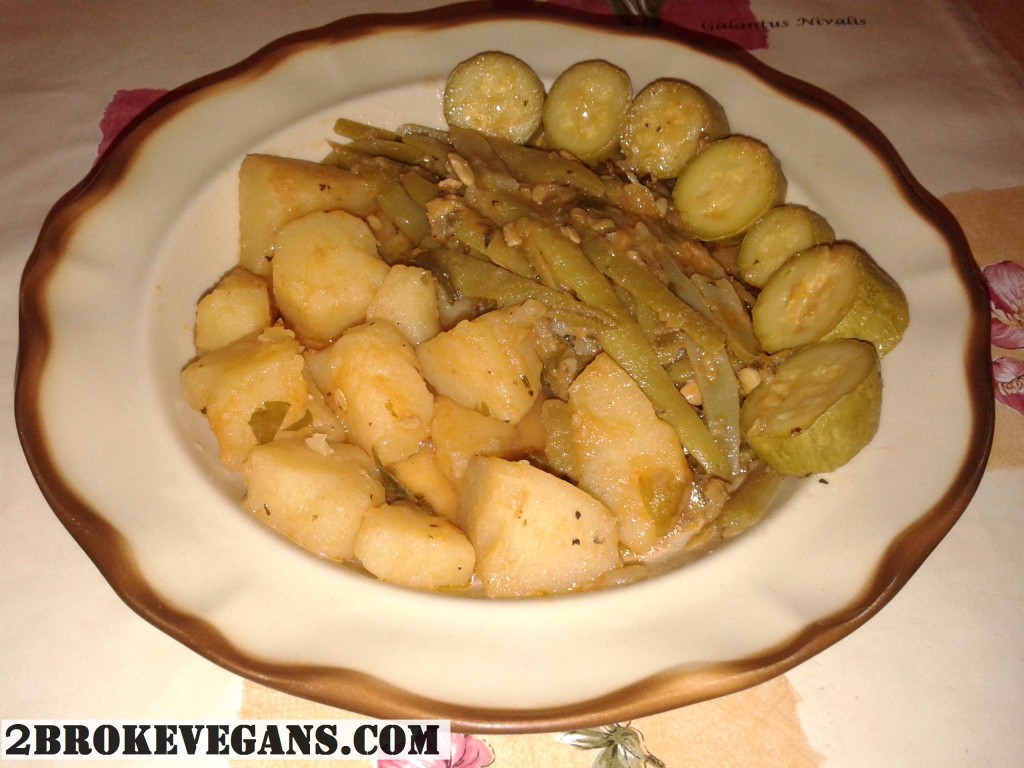 This is how every Greek mother or grandmother cooks green beans, or φασολάκια! The is how you make green beans the Greek way.
You will need:
1 kilogram of long green beans (fresh or frozen)
1 or 2 cloves of garlic
2 red onions
2 carrots
2 potatoes
2 zucchinis
The juice of 2 juicy tomatoes
2 teaspoons of sugar
fresh parsley
fresh fennel
salt and pepper
olive oil
Wash your vegetables. If you chose the frozen way, congratulations because you are set. If you chose the fresh beans, you should reach for a knife (and for some patience).  The beans on both sides have a "nerve" or cord running on them, cut it out with the knife, along with the top and the bottom of the bean.  If this is your first time doing it, try to cut close to the surface so you don't waste too much flesh! Don't worry,  it will get easier and faster with time!!
Chop the onions and garlic finely. Chop the carrots, zucchinis and potatoes in bigger pieces.
I like keeping the green beans as long as they come (like my grandma used to do them), but if you want to you can chop them too!
In a giant pot, drizzle some olive oil to coat the bottom, heat it up over medium heat on the stove. When it starts sizzling add the onions and the garlic. Let them saute for a minute. Add the carrots, sizzle for a couple of minutes. Next add the potatoes, sizzle to make them softer, then the zucchinis and last but not least the green beans! Try to keep the heat medium to low so nothing burns (and to soften them relatively)!
When you think the green beans are soft enough, add the tomato juice with the sugar, finely chopped parsley, finely chopped fennel; then salt and pepper. Stir carefully. Add enough water for the food to be barely covered, cover with the lid and slow cook on medium-low heat until the carrots, potatoes and the green beans are soft.
We did not have any carrots on hand at the moment so our picture reflects that. Traditionally we make this dish with carrots.