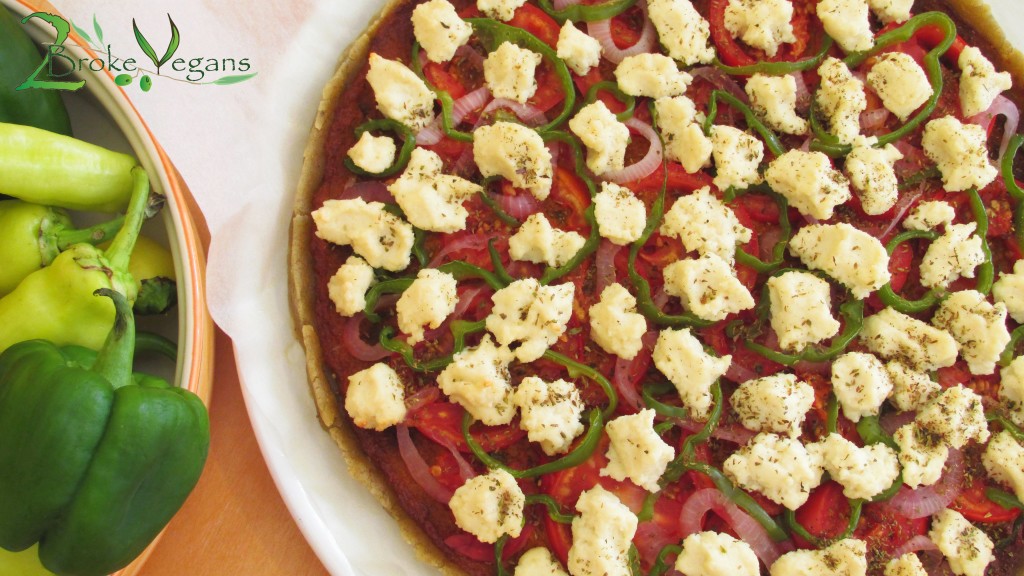 Athanasia came across this delicious vegan Feta cheese recipe on another vegan recipe blog  so we wanted to try it out. We tried the original recipe and proceeded to change it a bit to our liking. This recipe is the end result and we are very happy with it; it is inspired by the Feta used in the Greek tomato salad known as horiatiki. We wanted to try this recipe on a pizza inspired by this very salad. We had just used all our olives the day before we made this pizza but other than that it is kind of a Greek tomato salad pizza! Of course, it was my idea to add some corn on top of the pizza after it had been baked which is not traditionally in the Greek tomato salad but it was very tasty! So, here is how you can make homemade vegan Feta cheese on pizza: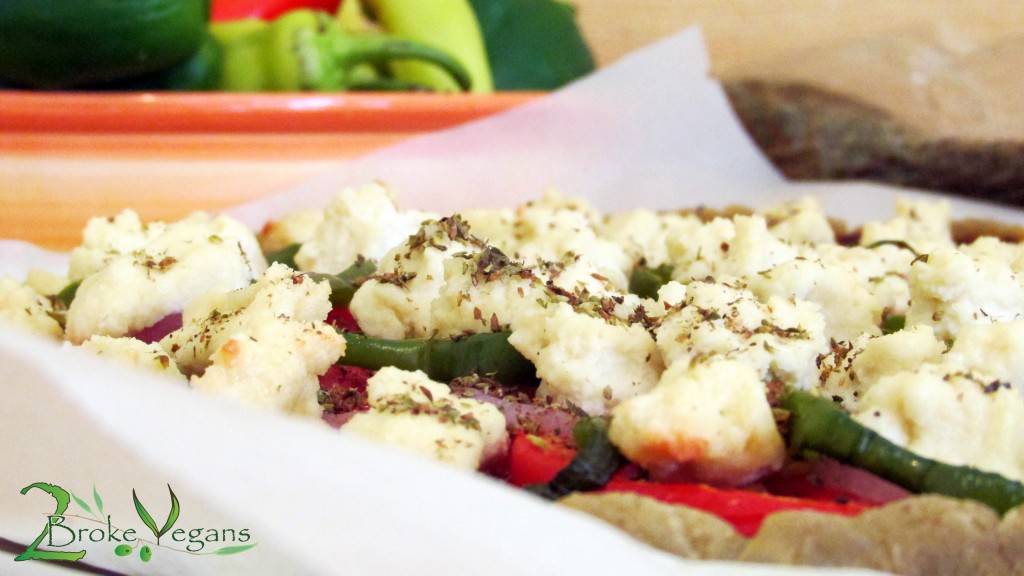 First you will need to prepare your pizza sauce. Click here for a great recipe for pizza sauce. follow the recipe but at the end place the sauce in a pot on the stove over medium heat. Stir the sauce occasionally keeping it over the heat until the sauce thickens quite a bit.
You can use whatever style pizza crust you would like but we made out gluten free vegan Italian pizza crust for this one. Click here for the gluten free vegan Italian pizza crust recipe.
Ingredients for vegan Feta cheese (click here to view original recipe):
1 1/2 cup of blanched almonds
1-2 garlic cloves, minced
1/4 cup of water
3 Tablespoons of olive oil
1 teaspoon of sea salt
1/2 Tablespoon of lemon juice
1 Tablespoon of nutritional yeast
Instructions for vegan Feta cheese:
Add all ingredients into a high powered blender and blend until completely smooth
Now, to assemble the pizza:
After the crust has been pre-baked and the sauce has thickened add the sauce on top of the crust. Spread evenly.
Add some sliced tomatoes, sliced red onions, sliced green peppers and sliced olives (if you have them).
Form the vegan Feta cheese into small clumps or balls of cheese and place them on the pizza. Add as many of them as you would like!
Put the pizza back into the oven at 150° C (302° F) for 15 minutes or until the Feta cheese turns slightly brown.
Sprinkle some dried oregano on top of the pizza after removing from the oven.
Optional: Add some corn on top of the pizza (also after removing from the oven).
Slice and enjoy!
We really loved this pizza! We rarely post a recipe the day after we first made it. We usually like to make it a few times to make sure it is consistent as well as delicious every time! However, we could not wait to share this pizza with all of our readers! Try it, it's worth it!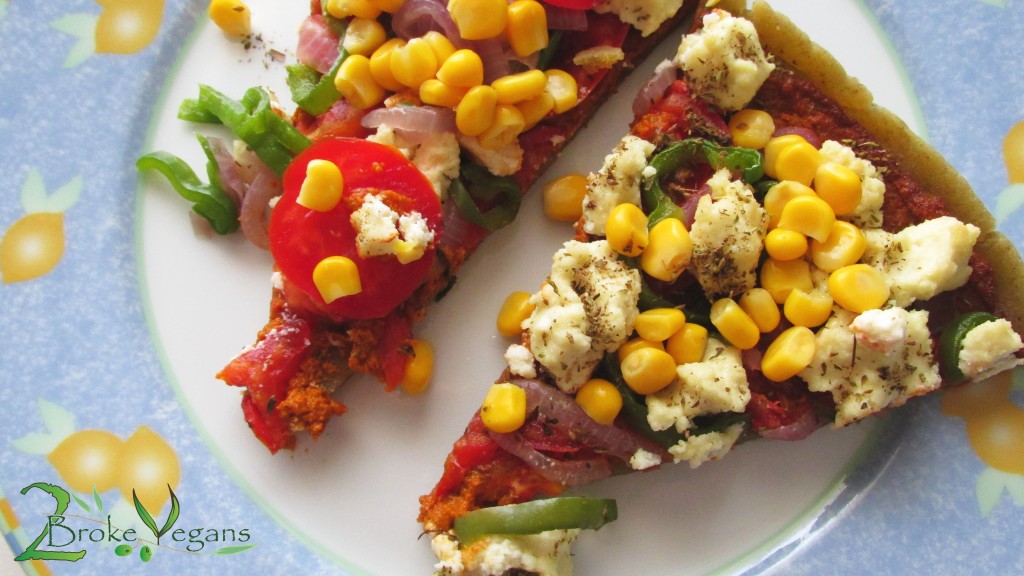 Copyright protected by Digiprove © 2014