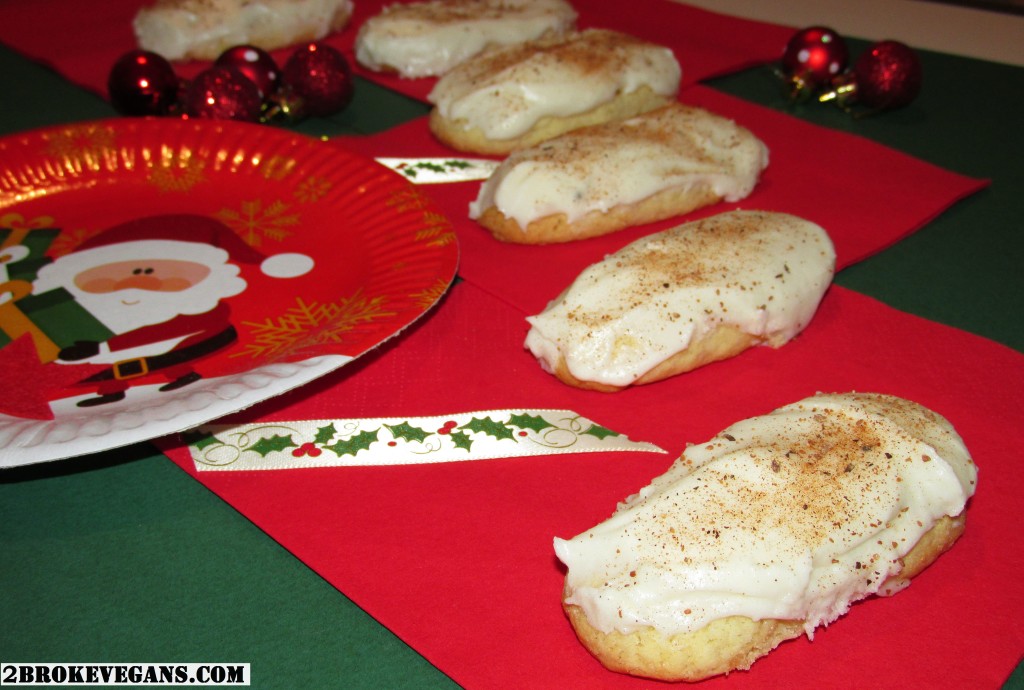 Nutmeg logs are a very traditional Christmas cookie, I cannot remember a single Christmas without them! They are very easy to make and delicious! Here is how you can make gluten free vegan nutmeg logs: 
Ingredients for the cookies:
1/2 cup of vegan butter
1/2 teaspoon of nutmeg
1/2 cup of organic raw cane sugar
1 Tablespoon of ground flax seeds mixed with 3 Tablespoons of water
1/4 teaspoon of vanilla powder
1 1/2 cup of gluten free all purpose flour
Whisk all of the dry ingredients in a medium to large mixing bowl. Then, combine all of the ingredients together and work the dough with your hands to mash and mix everything consistently.
Preheat your oven to 175° Celsius (350° F)
On a cookie pan or a piece of parchment paper form the dough into small logs. This recipe should be able to make around 15 to 16 logs. Bake them in the oven for 8 minutes or until they turn a nice shade of golden brown in some places. Remove from the oven and make some vanilla butter-cream frosting (click here for a recipe).
Spread some frosting on top of each cookie and sprinkle some nutmeg on top. Have a Merry Christmas!

Copyright protected by Digiprove © 2014