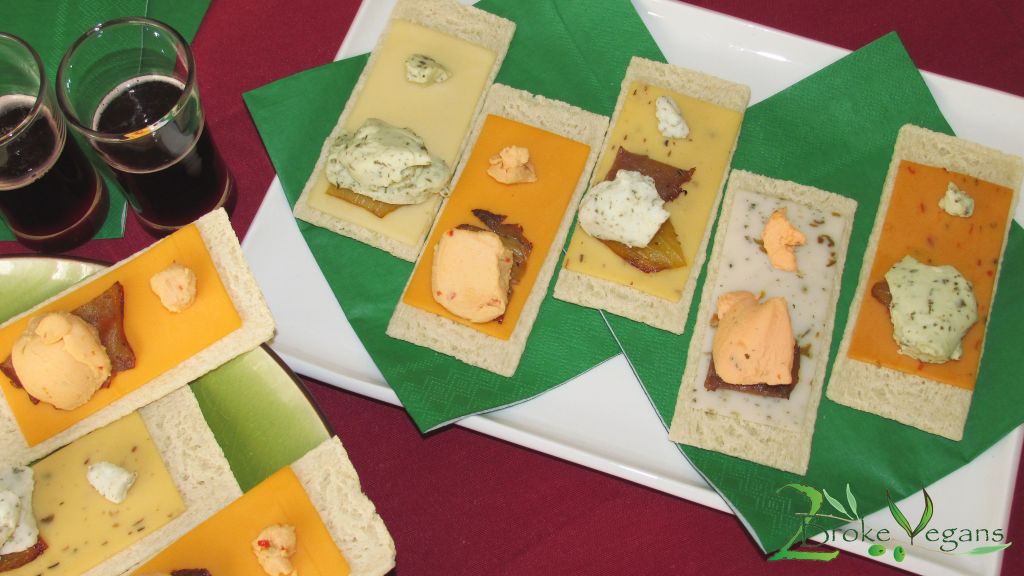 We were recently contacted by the Greek company Viotros telling us about their new vegan cheese slices made without preservatives. For those of you not yet familiar with Viotros, they make delicious vegan cheeses here in Greece. You can buy their products at Botanica here in Patra or at Bamboo Vegan in Athens. For a complete list of where you can find their products throughout the world click here. They can be found throughout the world under the Viofree and the Violife brand name.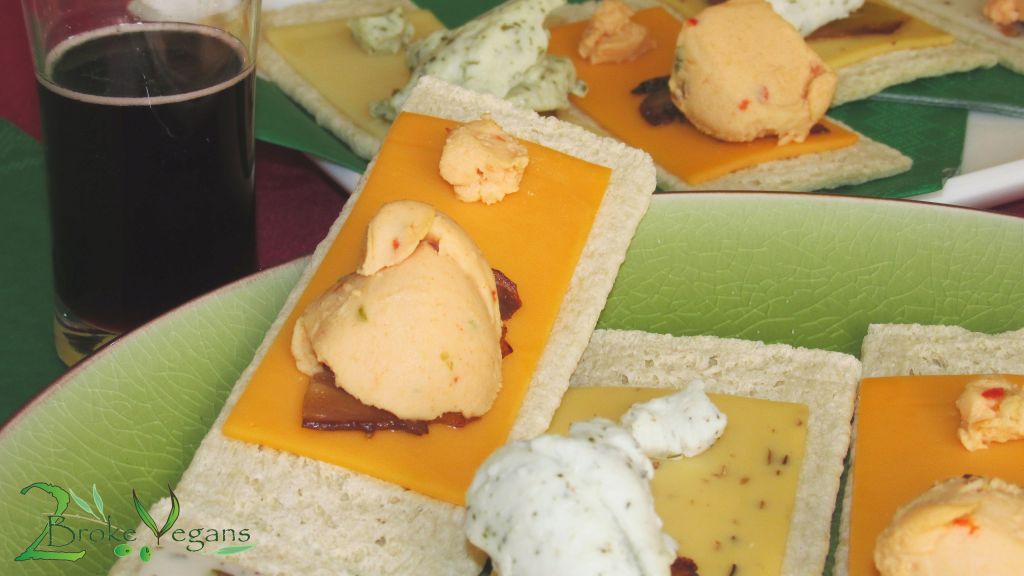 As you could imagine, we were extremely excited to try their new vegan cheese slices! To our pleasant surprise, they sent us a huge package full of these vegan cheeses to sample along with a challenge:  come up with recipes to use them with! We had already been fans of all their vegan cheeses but we always look forward to coming up with new ideas. We will be posting a lot of new recipes in the coming weeks using their products. However, for today, we wanted to share a true sampler kind of idea; a party platter with Viofree vegan cheeses!
When we have guests, like most people, we are scrambling for appetizer ideas! When Viotros sent us these vegan cheeses, we wanted to try them all! We had tried a lot of their flavors already (for example, we are both huge fans of their Tomato & Basil slices and cream) but we had not tried all of them yet. The first thing we noticed was how much better the flavor of the slices are without preservatives. We just so happened to have packs of Tomato & Basil as well as Mozzarella slices in our refrigerator that still contained preservatives. Of course, this allowed us to do a side by side taste comparison. I am not sure when these new slices without preservatives will be in stores (if they are not already), but they are bursting with flavor!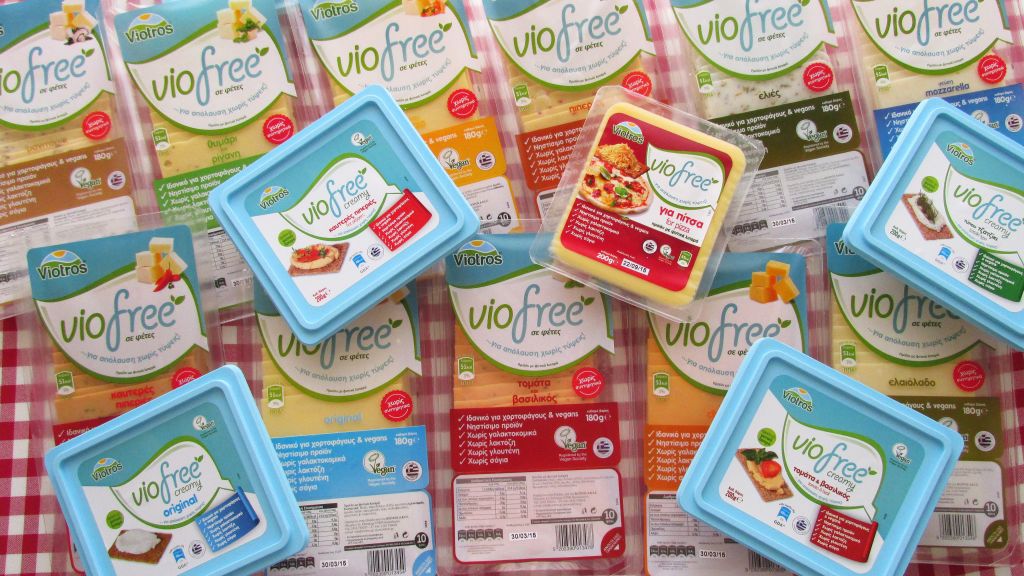 So, as were were staring at this mountain of vegan cheeses on our kitchen table, we were trying to come up with some recipe or snack ideas. Athanasia had a brilliant idea, why not try a few of them in combination with some of the vegan creamy cheese spreads they sent? Before you know it we had made a list of which slices went well with which creamy spreads! The vegan party platter was born!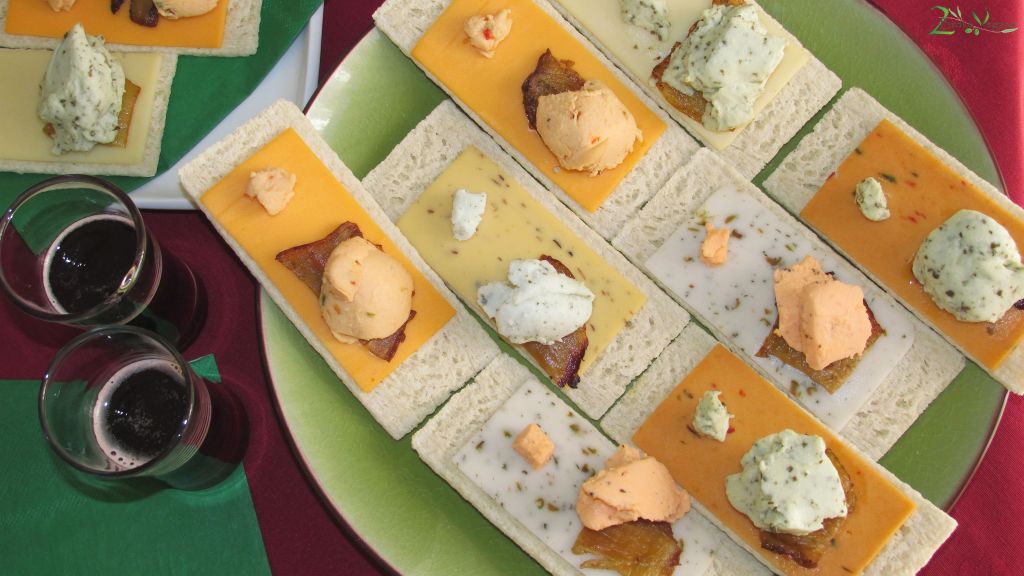 Now that we had a good understanding of which vegan cheese slices went well with which creamy spreads we needed to roast some eggplants! Here is a great roasted eggplant recipe:
Ingredients:
1-2 medium sized eggplants, peeled and sliced thinly
1/2 cup olive oil
1 Tablespoon of vegan gluten free Worcester sauce
1 garlic clove, minced
2 teaspoons of sea salt
1/2 teaspoon of dried oregano
1/2 teaspoon of cumin
1/4 teaspoon of smoked paprika
1/8 teaspoon of ground black pepper
1/8 teaspoon of ground allspice
Instructions:
Combine all the ingredients except the eggplant slices in a bowl; whisk
Once marinade is mixed completely, add the eggplant slices. Move the slices around a bit and make sure all of them are submerged in the marinade
Cover bowl with saran wrap or a lid and refrigerate for 1-3 hours (marinade for up to 24 hours for even more flavor)
Pre-heat oven to broil
Strain, drain or soak up the excess olive oil from slices
On a pan, roast the eggplants for 3 to 5 minutes until roasted without burning
Once they have cooled, cut slices into smaller slices (or desired size)
From here it is obviously pretty easy to create a party platter. We used our favorite gluten free vegan crackers we bought from Botanica as a base. Then, we added a half slice of Viofree vegan cheese, a piece of roasted eggplant with a bit of Viofree creamy cheese spread on top. These are delicious! We have discovered the following vegan cheese combinations to work extremely well together:
Viofree olive oil slices  with Viofree creamy herbs spread
Viofree cheddar slices with Viofree creamy hot peppers spread
Viofree olive slices with Viofree creamy tomato and basil spread
Viofree slices mushrooms slices with Viofree creamy tzatziki type spread
Viofree hot peppers slices with Viofree creamy herbs spread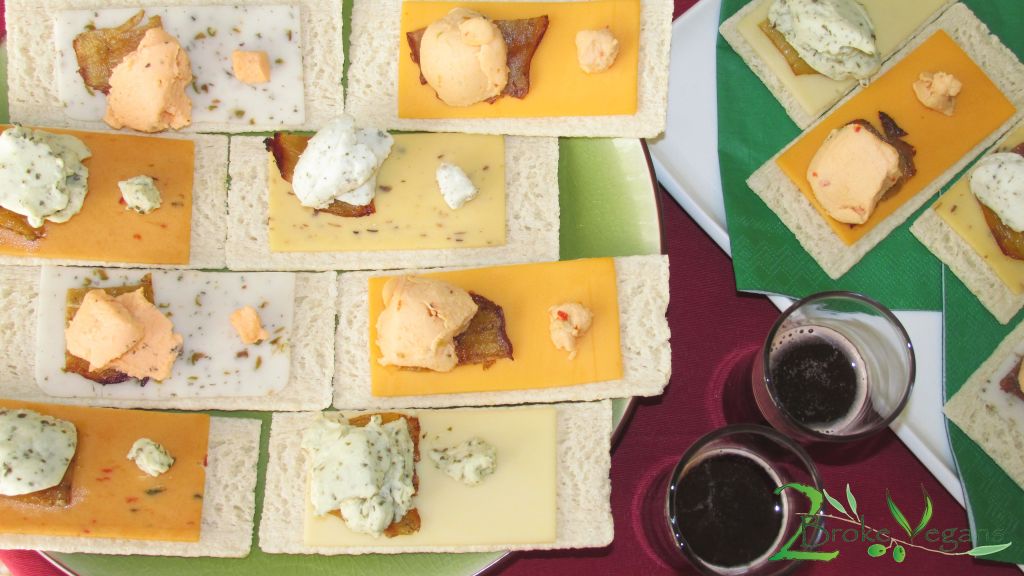 That's how we roll! How about you? What do you like to whip together when you have guests?

Copyright protected by Digiprove © 2014