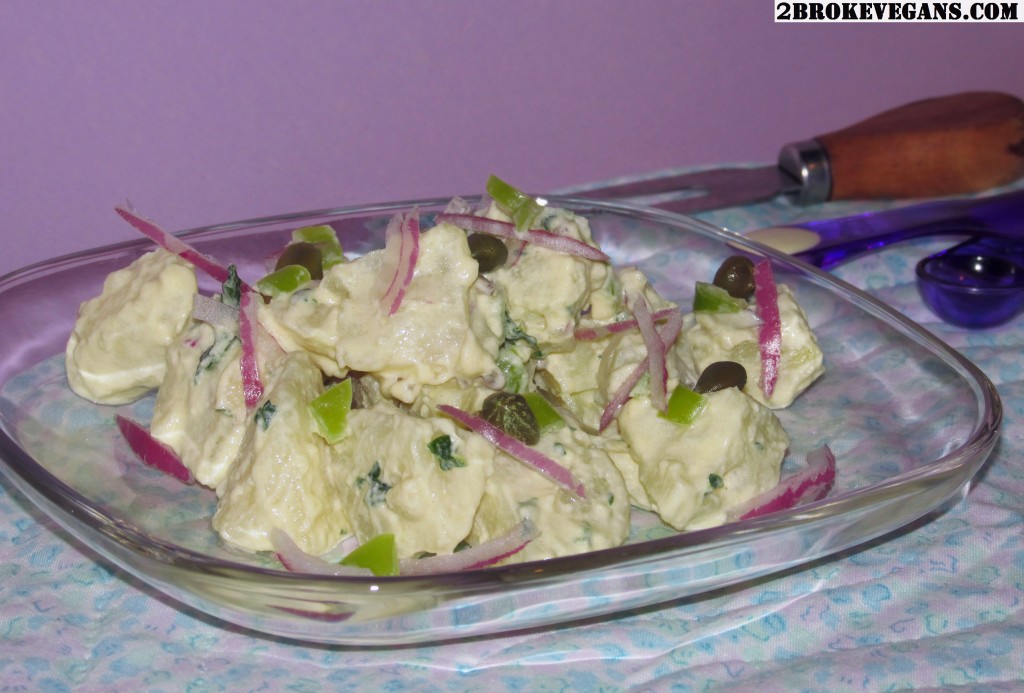 The lightest, tastiest, easiest potato salad with vegan mayo I have ever had 🙂 Only 4 basic ingredients! How cool is that? A cool dish for those warm days that are coming up. Top it with red or green onions, pickles, raw peppers or capers. Even multi-eyed monsters love it, as you can see in the photo below:
!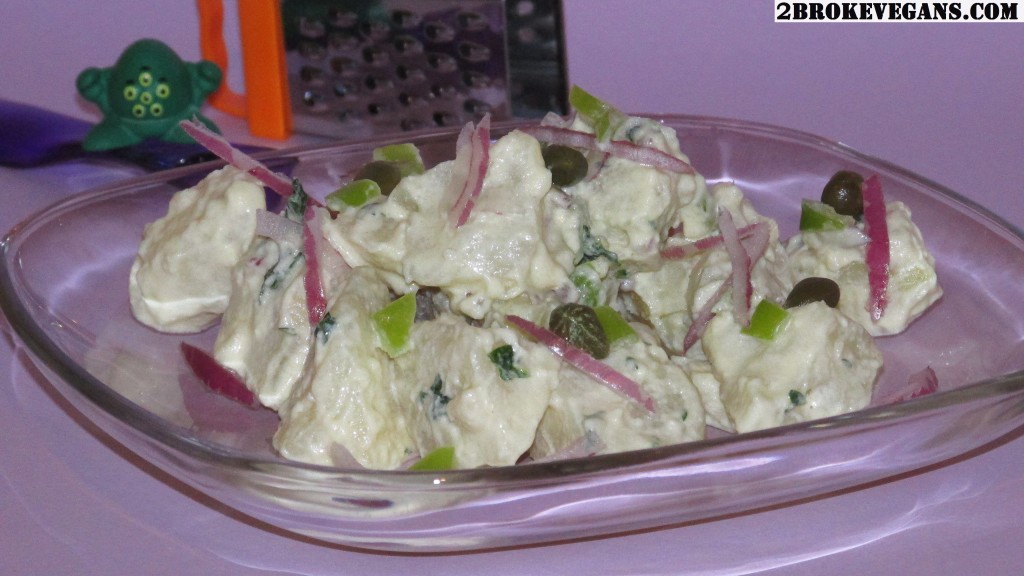 Ingredients for 4 servings:                                                                                                Preparation time:30 minutes
2-3 potatoes
2 Tablespoons of vinegar
2 Tablespoons of chopped fresh parsley
Vegan mayo (click here for our awesome, quick and easy recipe!)
We added these on our potato salad:
1/4 of a red onion sliced
1/2 of a green pepper, sliced
capers
But you can add whatever ingredients you love!
First prepare your vegan mayo and place it in the fridge to get it nice, cool and even more firm. Then, wash and peel your potatoes and boil them in salted water until they are soft. In the meantime, slice, chop and cut the parsley and whatever vegetables you are adding.
When the potatoes are soft, strain them. Then, cut them in cubes and put them in a bowl. On top, drizzle the vinegar, so the potatoes get the flavor. This is my mom's secret that gives all the flavor to this simple yet amazing potato salad! Place the bowl in the fridge for the potatoes to cool down.
After they are cool you are ready to assemble! Add the parsley and just enough vegan mayo for the mix not to swim in it! Add one spoonful at a time, mix carefully and if needed add more. Mix well and top it with onions, peppers, capers or what ever combination inspired you!
Serve cool, as a main dish, appetizer or side dish and enjoy!

Copyright protected by Digiprove © 2014