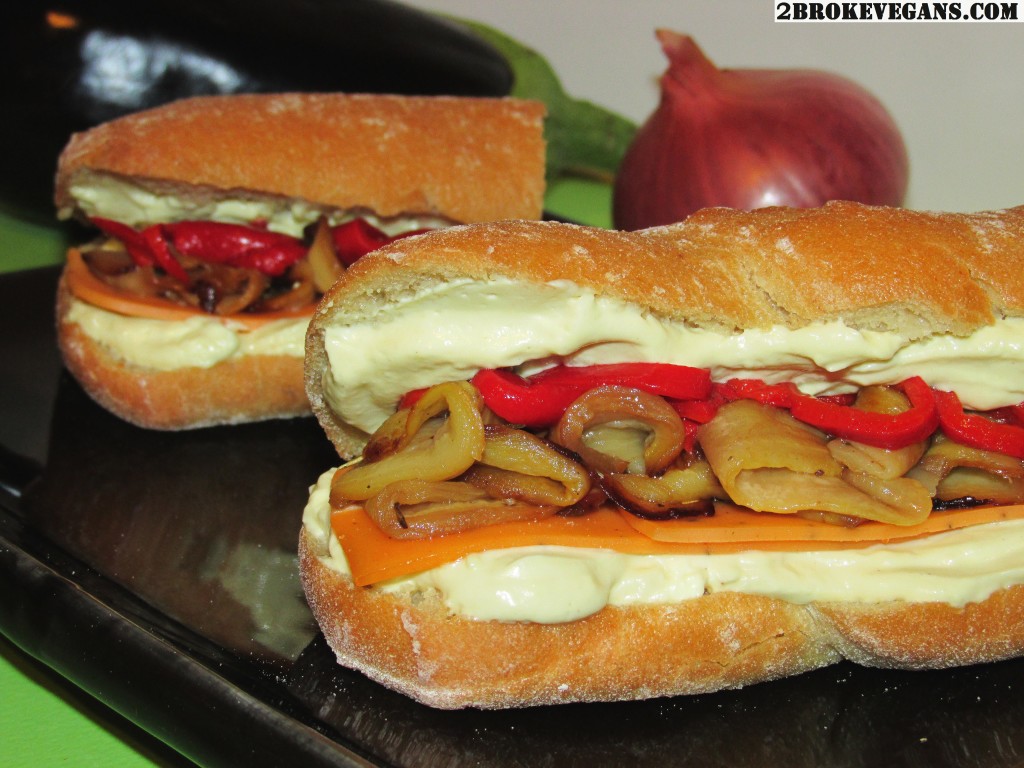 We have been on a sandwich kick lately and for good reason… they are delicious and there are so many ways to make them! Ever since we found Schnitzer's gluten free vegan bread at Botanica Bio-mart I have been able to focus more energy on what to put in the sandwich (instead of using energy to make the bread).  Don't get me wrong, I love making bread, but it is time consuming! So, one day Athanasia brought home another kind of bread from Schnitzer's and that's when the idea for this roasted eggplant sandwich was born. I would say it is a fairly simple recipe too. It can take a little bit of time to slice the eggplants I suppose, but it is worth it!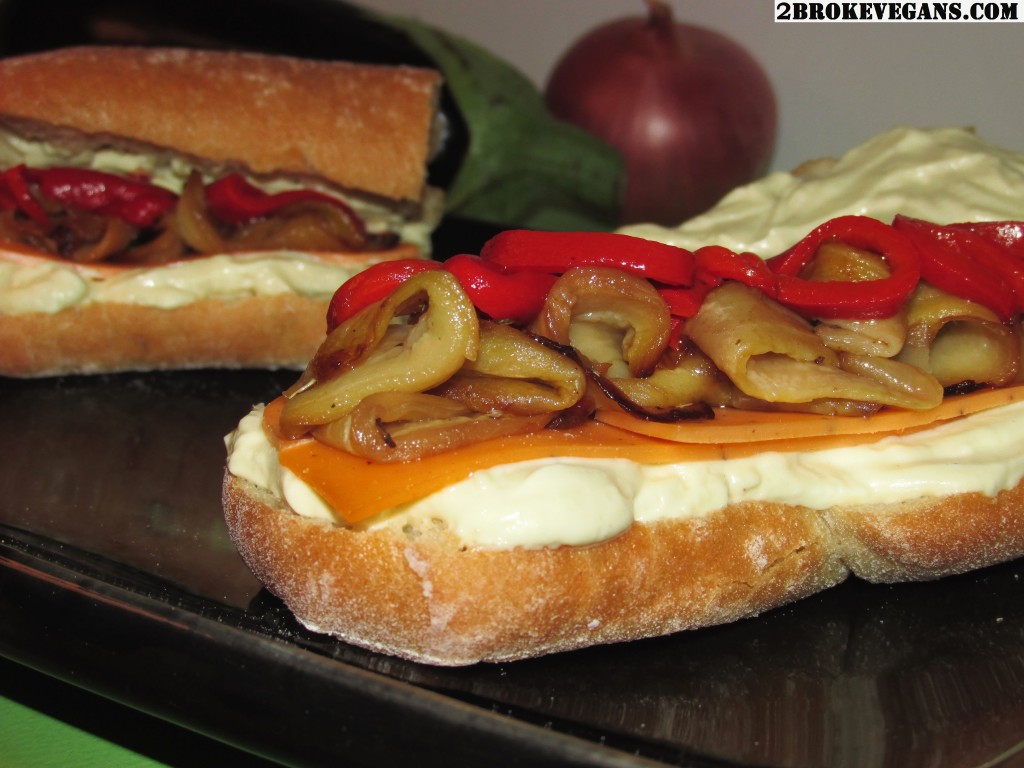 We enjoyed this sandwich with our vegan mayonnaise recipe (click here)
Ingredients to make enough roasted eggplant slices for two subway styled sandwiches:
2 medium to large eggplants, peeled and sliced thinly (using a mandolin works)
1 garlic clove, minced
2 Tablespoons of red onions, diced
1/2 cup of olive oil
1 Tablespoon of vegan gluten free Worcester sauce (click here in Europe to see which one we use)
1/4 teaspoon of vegan gluten free liquid smoke
1/4 teaspoon of dried thyme
1/4 teaspoon of dried rosemary
dash of ground pepper
1 Tablespoon of ume plum vinegar (click here in Europe or click here in North America)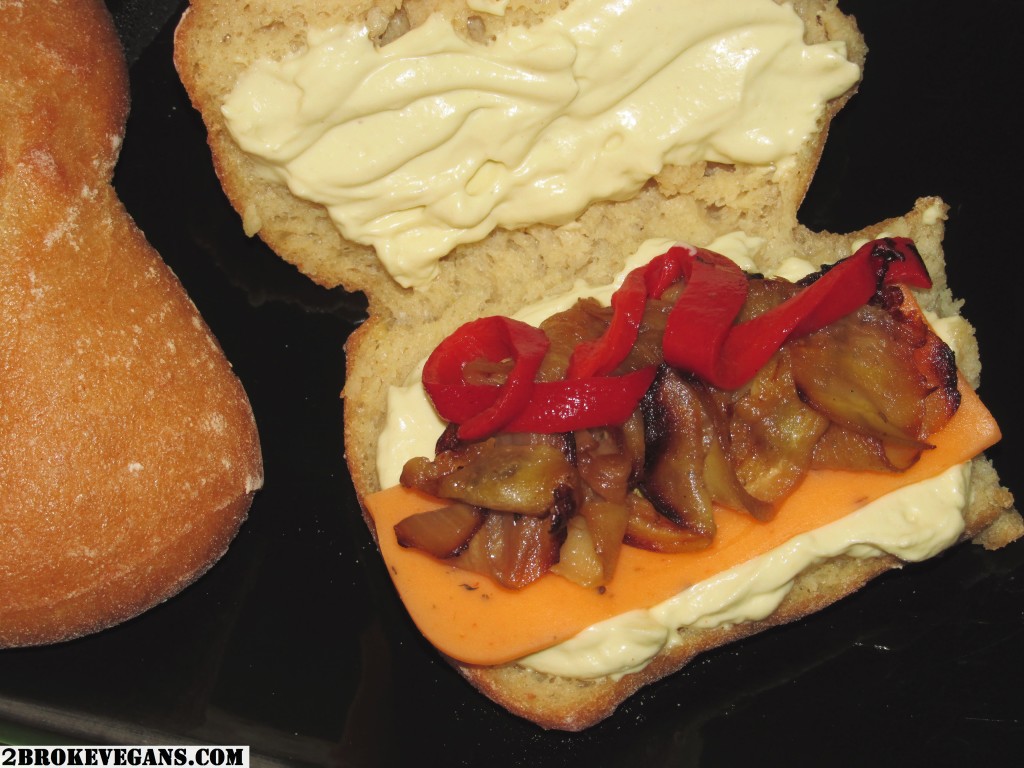 Add all of the ingredients except the eggplants into a medium bowl and whisk until everything mixes evenly. Once you are done whisking, add the eggplant slices to marinade them. Cover the bowl and place in the refrigerator for one hour.
Once the time has passed, spread the eggplants out so they do not touch each other on a pan or two pans. Broil them in the oven for 5 to 7 minutes. If they start to burn take them out, they are ready!
Enjoy with your favorite gluten free vegan bread or you could always make our simple gluten free vegan bread recipe!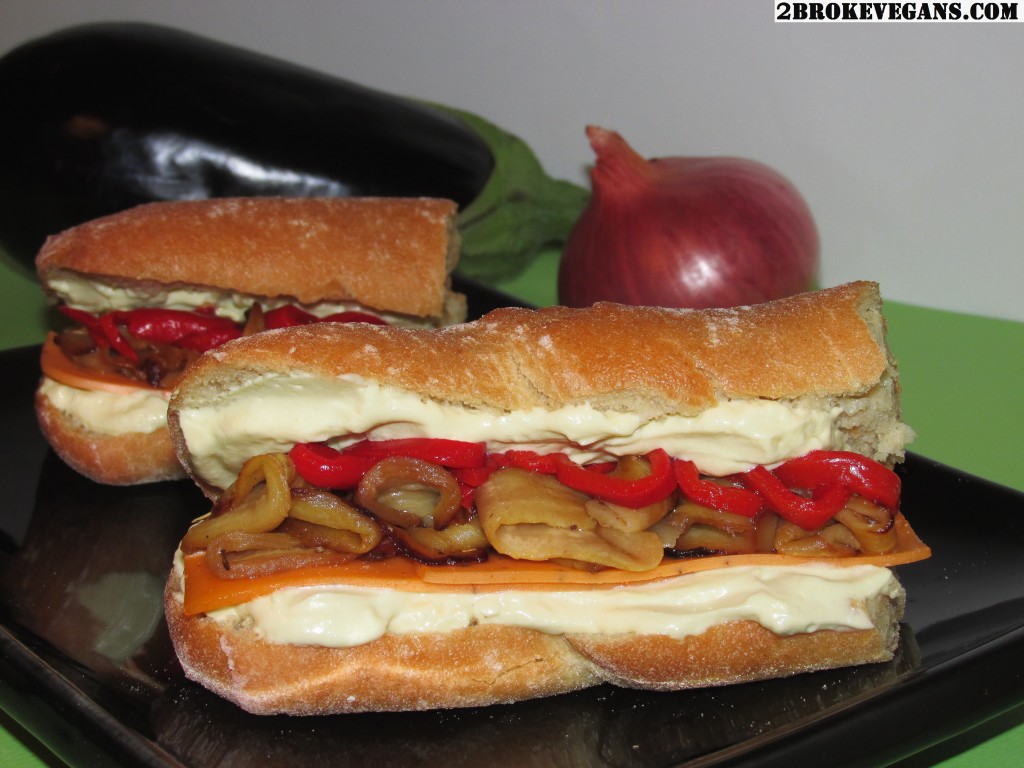 Copyright protected by Digiprove © 2014