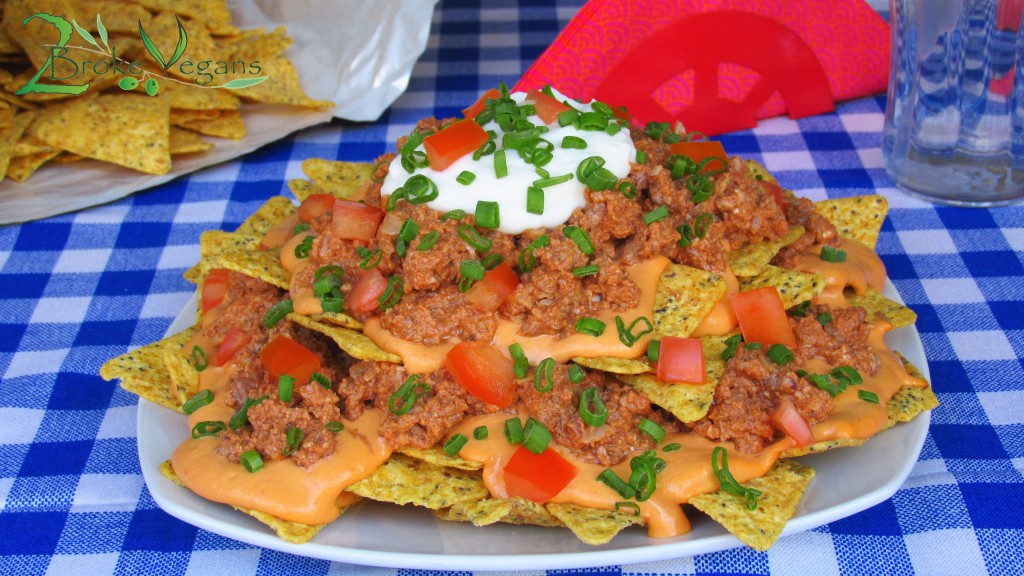 It's time for the Super Bowl! Do you have your vegan snacks planned out for Sunday yet? If you do not, why not join us in making vegan nachos bell grande a.k.a. nachos supreme! I keep recreating all these junk foods from my non-vegan days. Perhaps it is not the healthiest thing to be doing but I think it's nice to show people who are thinking of making the transition what is actually possible. Besides, how unhealthy can walnuts, almonds and tomatoes actually be? It's so delicious too! So, who's ready for some football?
In this post we have the recipe for the minced walnuts to be used on the nachos bell grande. Other recipes you will need to prepare to create this delicious snack are:
Ingredients for the minced walnuts:
210 grams (7.4 ounces or 2 cups) of walnuts
500 ml (2 cups or 16 fluid ounces) of tomato juice from blended tomatoes*
35 grams (1/4 cup or 1.2 oz) of diced red onions
1 garlic clove or 1/4 teaspoon of garlic powder
3/4 teaspoon of sea salt
1/4 teaspoon of apple cider vinegar
2 Tablespoons of olive oil
Dash of ground allspice
1/2 teaspoon of paprika powder
1/4 teaspoon of dried oregano
1/2 teaspoon of cumin
Dash of black pepper
Dash of cayenne powder (optional)
Dash of ground cinnamon
1/4 teaspoon of raw organic cane sugar (optional)
Instructions for the minced walnuts:
Add the walnuts and garlic clove into a blender or food processor. Pulse until small minced clusters remain. You may have to stop a few times to scrape the edges of the processor or blender. If you have a blender with a tamper it can be a bit easier.
Empty the minced walnuts into a medium to large pot.
Add the diced red onions with the walnuts in the pot. Set aside.
Add the tomatoes and all remaining ingredients into blender and blend until completely smooth. Pour the tomato mixture into the pot to join the minced walnuts and  diced red onions.
Stir the pot a lot until you are sure there is liquid underneath all the walnuts.
Place the pot on the stove over medium heat. You may want to use a splash screen over the pot to prevent a mess as the tomato juice likes to try to escape the pot when it is simmering.
Stir every 5 minutes until the mixture thickens quite a bit. This process usually takes us 35 to 50 minutes depending on the humidity of the day.
Remove from heat and set aside.
Get ready to make vegan Nachos Bell Grande!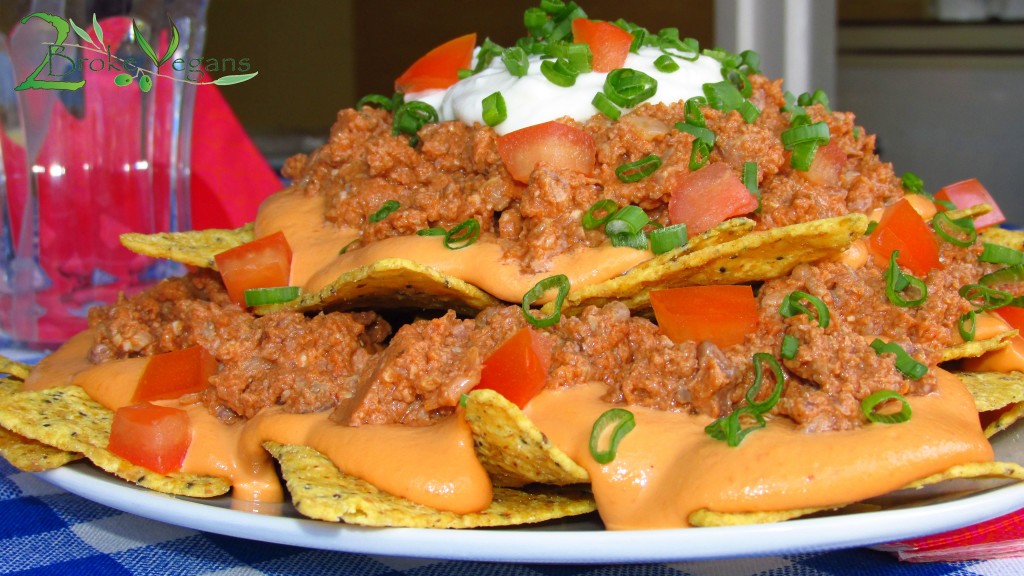 Ingredients list for vegan Nachos Bell Grande:
Minced walnuts recipe
Organic Corn Chips
Green Onions (sliced)
Tomatoes (chopped into small cubes)
Instructions to assemble vegan Nachos Bell Grande:
Pre-heat oven to 100° C (212° F)
Spread out a layer of organic corn chips on a large plate or platter.
Drizzle some nacho cheese dip over the chips.
Spread some minced walnuts you made over the nacho cheese.
Add another layer of chips and repeat the nacho cheese and minced walnut "meat" steps.
Add as many layers as you think your plate can handle or until you run out of ingredients.
Warm nachos in oven at 100° C (212° F) for 2-3 minutes.
Remove from oven. On the top layer add as much vegan sour cream as you would like and garnish with sliced green onions and chopped tomatoes.
Ready to serve!
Tell somebody to bring some napkins for this one! In my opinion, these vegan nachos taste much better than anything sold at Toxic Hell, oops, I meant Taco Bell. Plus, it's always nice to know all of the ingredients in the food you are eating!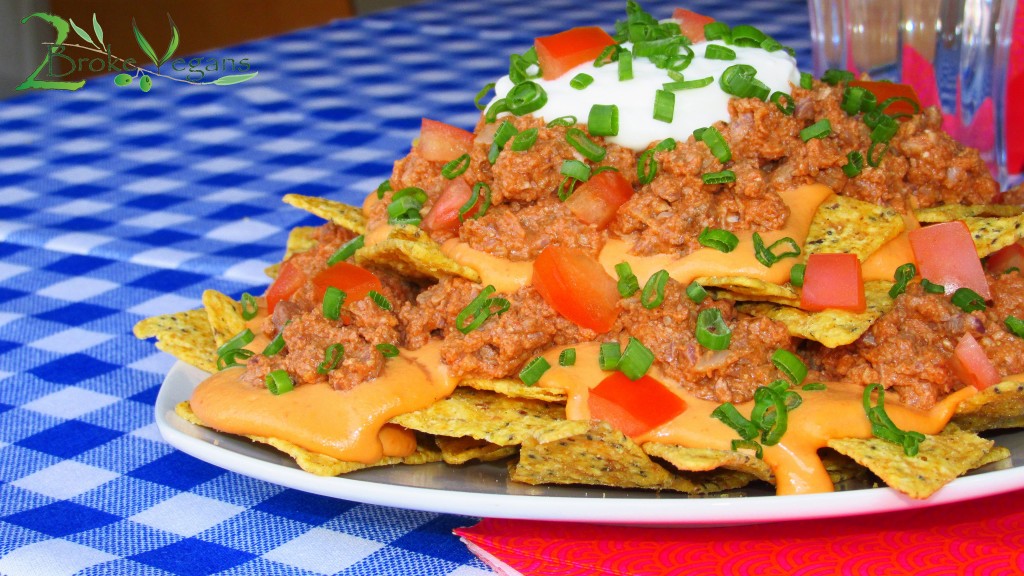 *1 medium sized tomato is equal to about 200 ml (6.7 fluid ounces) when blended into a liquid.

Copyright protected by Digiprove © 2015