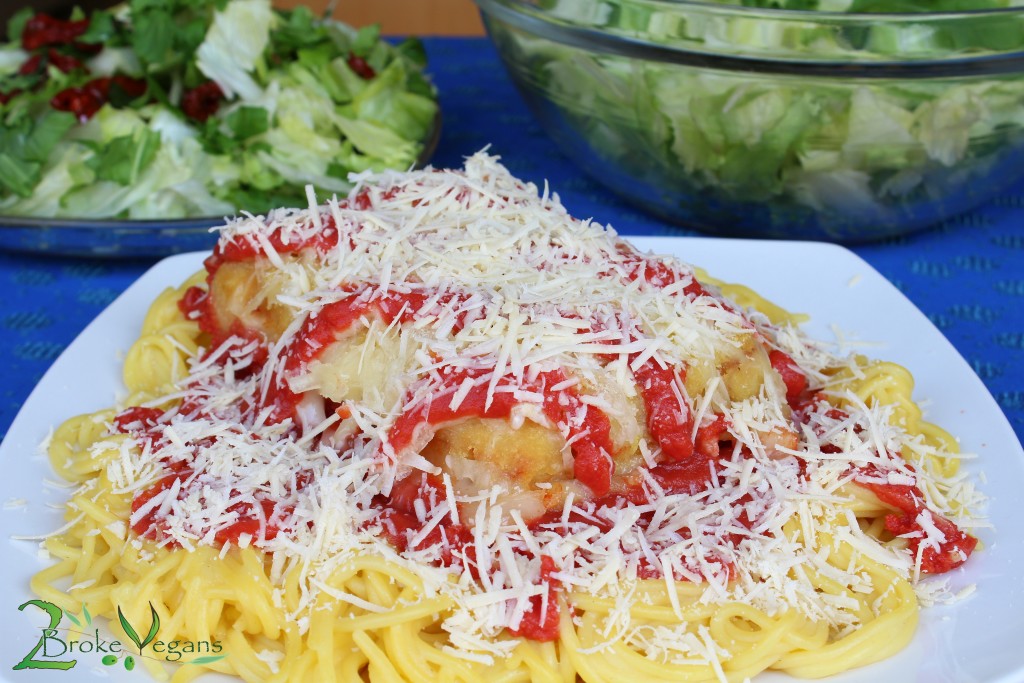 Here is a recipe I have been excited to make and post for a while now. A few months back Violife/Viofree sent us a new product they will be releasing soon for us to try: vegan Parmesan cheese! I am not sure if this product is available in stores yet but it should be soon. So, we tried this new vegan Parmesan cheese and it is amazing! I was very eager to make a vegan tofu Parmesan pasta with it. This is a bit of a big recipe though. We had to carefully consider when the weather would allow for photos while still preparing everything else in time for the photo shoot. We finally pulled it off and it is one of the most delicious vegan main courses we have had in a long time! It's not a very difficult recipe so much as it is time consuming. It's worth it to make it though! Here is how it's done: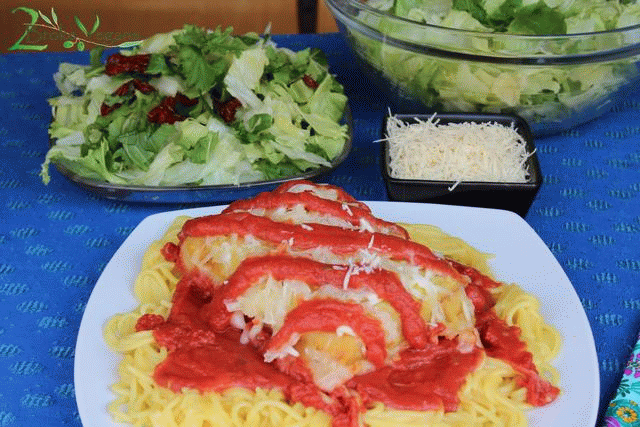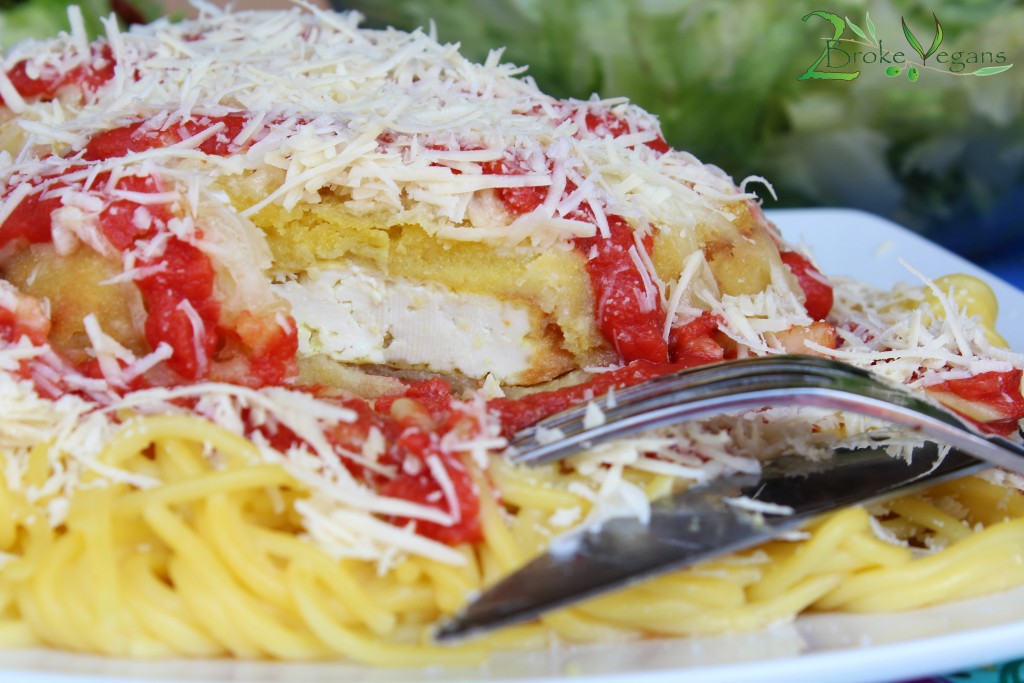 Generalized steps for making the vegan tofu Parmesan:
Marinate tofu
Fry tofu
Make sauce
Shred or grate vegan cheeses
Bake dish
Boil noodles
Assemble and bake
Serve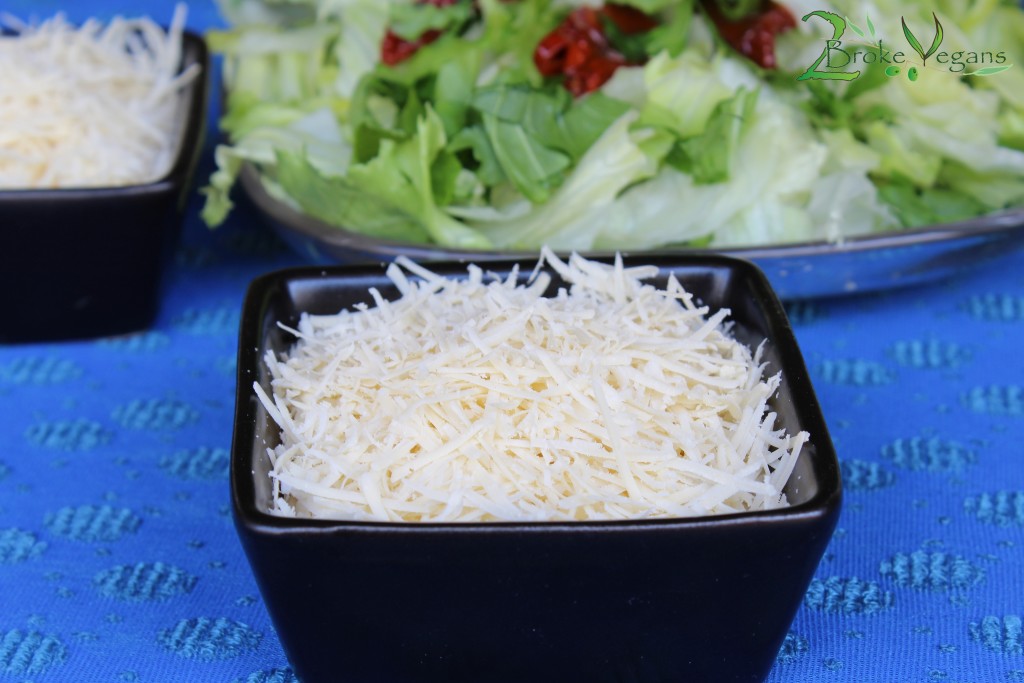 Step 1 Marinate Tofu:
Ingredients for the tofu marinade:
400 grams (14.2 oz) of firm tofu blocks  (2 separate 200 gram or 7 oz blocks)
3 cups (710 ml) of water
2 Tablespoons of olive oil
2 Tablespoons of lemon juice
1/2 teaspoon of dried rosemary
1/2 teaspoon of dried thyme
1/2 teaspoon of turmeric
1 1/2 teaspoon of ground ginger
2 teaspoons of sea salt
Instructions for the tofu marinade:
If you have a tofu press, press as much water as you can out of the tofu without disrupting it's structure. We do not have a tofu press so I squeeze the tofu between my open palmed hands as much as I can without breaking the tofu.
Slice each tofu block the long way into 4 separate 100 gram (3.5 oz) slices.
Whisk all the other marinade ingredients together in a bowl or dish that can submerge all the slices of tofu under the marinade. Use more water if needed.
Submerge the tofu slices in the marinade and cover the bowl or dish. Refrigerate for 12 to 24 hours. The longer it marinates the more flavor it will absorb.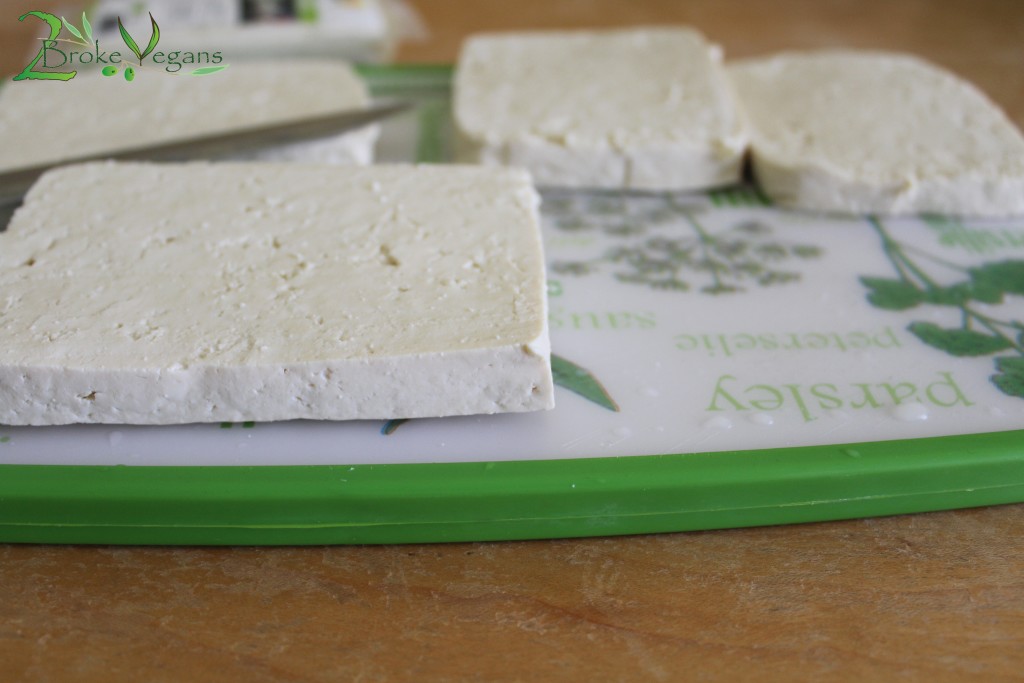 After the tofu has marinated, you will want to fry it in a frying pan on the stove.
Step 2 Fry Tofu:
Additional ingredients needed for the fried tofu:
1/2 cup (90 grams or 3.175 oz) of corn flour (North America example or Europe example)
1/2 cup (75 grams or 2.65 oz) of rice flour
1 teaspoon of finely ground sea salt
Olive oil
Instructions for frying the tofu:
Coat a frying pan with a generous layer of olive oil and place over the stove on medium heat.
Once you smell the olive oil heating up, fry as many of the tofu slices  in the pan as you can. Fry each side for 10 minutes.
Using a spatula, place the fried tofu slices back into the marinade to cool down for a few minutes. Remove the frying pan from the heat.
Whisk the flour and the sea salt together in a bowl with a flat enough bottom to roll the tofu slices around in.
Dip and cover the fried tofu slices in the flour mixture.
Pour a little more olive oil in the frying pan and place back on stove over medium-high heat. Wait a few minutes for the olive oil to heat up again.
Fry each slice that has been covered in the flour mixture for an additional 2 minutes per side. Some of the flour mixture will fall off, you can sprinkle more on them as you flip them.
Remove each slice from the heat. IF you like extra "breading" on your tofu you can pat the rest of the flour on each slice if you like (after the slices have cooled a bit). Set aside.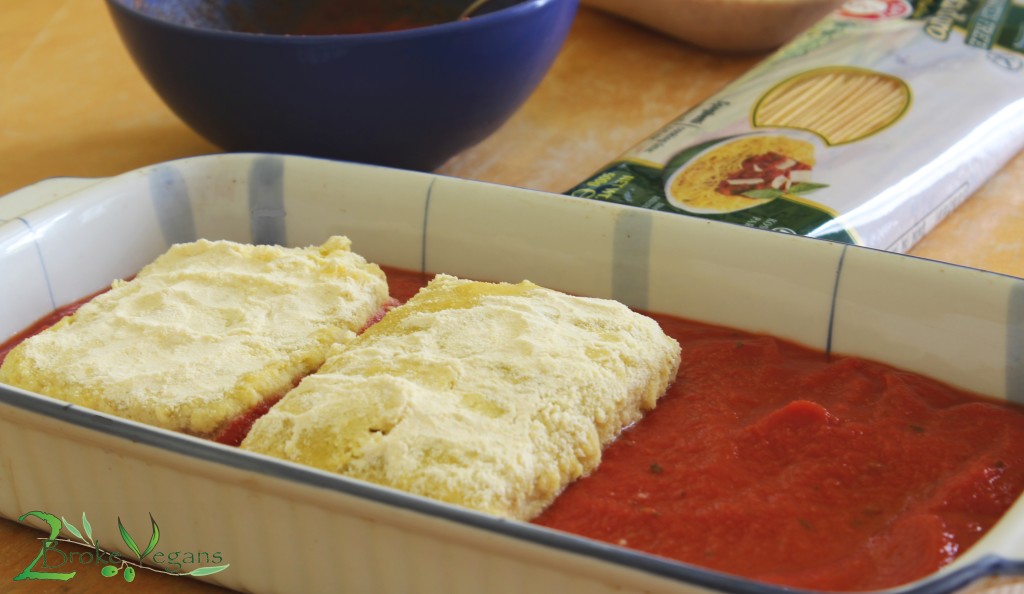 Step 3 Make Sauce:
Ingredients for the tomato sauce:
2000 ml (8.5 cups or 1/2 gallon) of blended tomatoes*
2 large cloves of garlic (minced) or 1/2 teaspoon of garlic powder
100 grams or 3.5 ounces (3/4 cup) of red onions, diced
3/4 teaspoon of dried oregano
1/4 teaspoon of dried parsley
1 1/2 teaspoon of sea salt
Dash of black pepper
Olive oil
*Depending on the size of your tomatoes this could take 12 to 16 medium to large tomatoes
Instructions for the sauce:
Blend the tomatoes into a liquid until the blend is as smooth as possible.
Pour a thin coat of olive oil in a large sauce pan. Place the pan on the stove over medium heat.
In the large sauce pan, saute the onions for 1-2 minutes.
Add the blended tomatoes.
Add all the other sauce ingredients. Stir.
You may want to cover the sauce pan with a screen to prevent a mess as the sauce begins to simmer. Continue simmering the sauce for 20 to 30 minutes over medium heat. Stir occasionally.
Remove sauce from heat and set aside.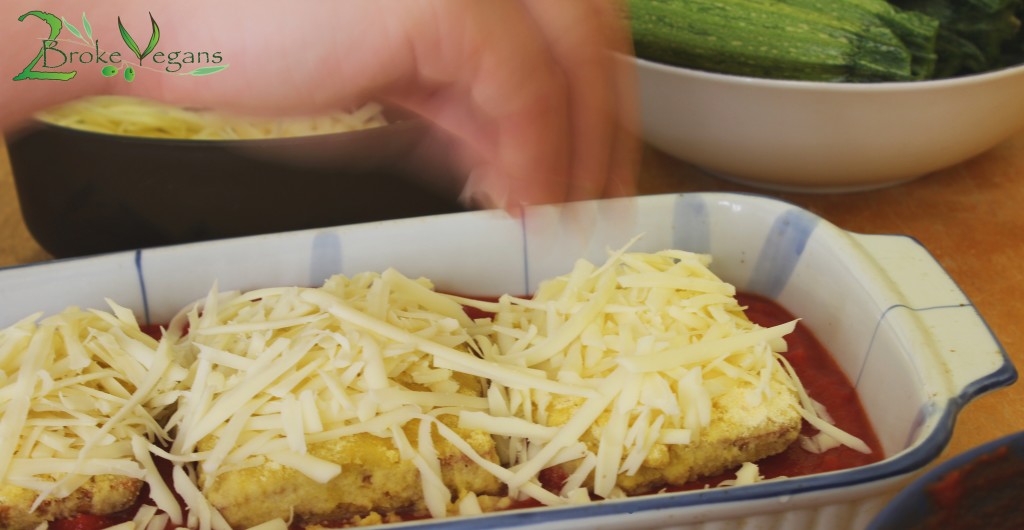 Steps 4-7:
Ok, we are finally ready to transform all of these items into the vegan tofu Parmesan pasta main course!
Ingredients for the vegan tofu Parmesan pasta (serves 3 to 4):
The fried tofu slices you made
The sauce you made
Your favorite gluten free vegan spaghetti noodles
1 block (200 grams/7 oz) of Violife/Viofree vegan mozzarella cheese that melts, grated or shredded
Violife/Viofree Vegan Parmesan Cheese, finely grated
Instructions for the vegan tofu Parmesan pasta:
Pre-heat oven to 180° C (356° F). We used convection mode.
Boil your favorite gluten free vegan spaghetti noodles and strain them. Set aside.
Pour the sauce you made in a long oven safe pan.
Place the fried tofu slices side by side on top of the sauce.
Cover the tofu slices with the shredded or grated vegan mozzarella cheese.
Place pan in the oven for 15 to 20 minutes or until the vegan cheese has melted and sauce bubbles a bit.
Remove pan from oven. Create a plate with some spaghetti noodles on bottom, some sauce on top of the noodles, a slice of the fried tofu with some more sauce on top of the tofu. Garnish with as much vegan Parmesan cheese as you would like.
Enjoy!
We owe a big thank you to Violife/Viofree for sending us this amazing vegan Parmesan cheese to try! Click here if you are looking for where their products are available. Click here if you would like to request their products!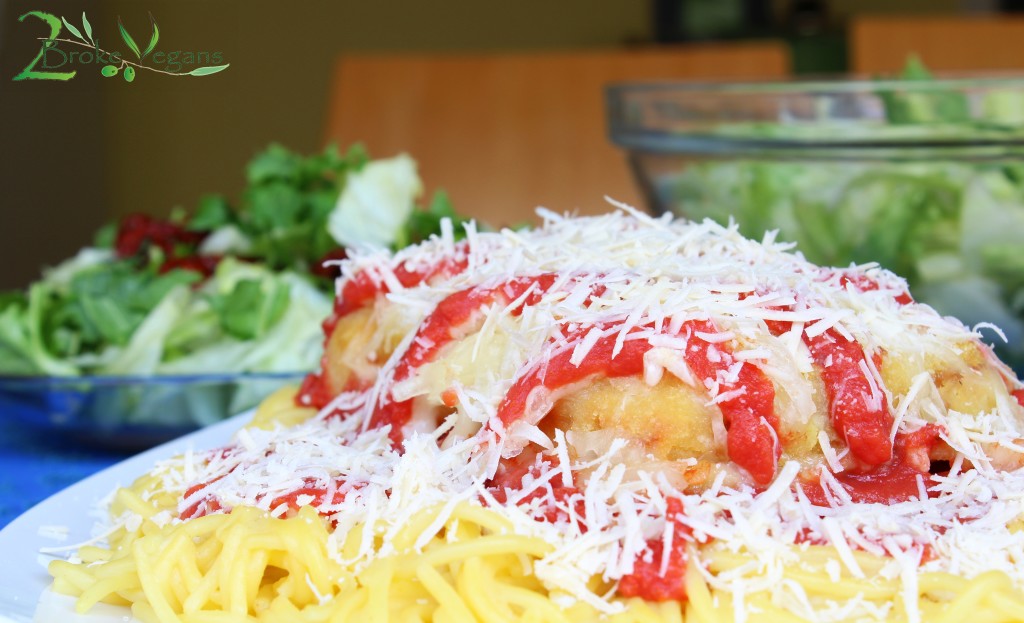 Copyright protected by Digiprove © 2015