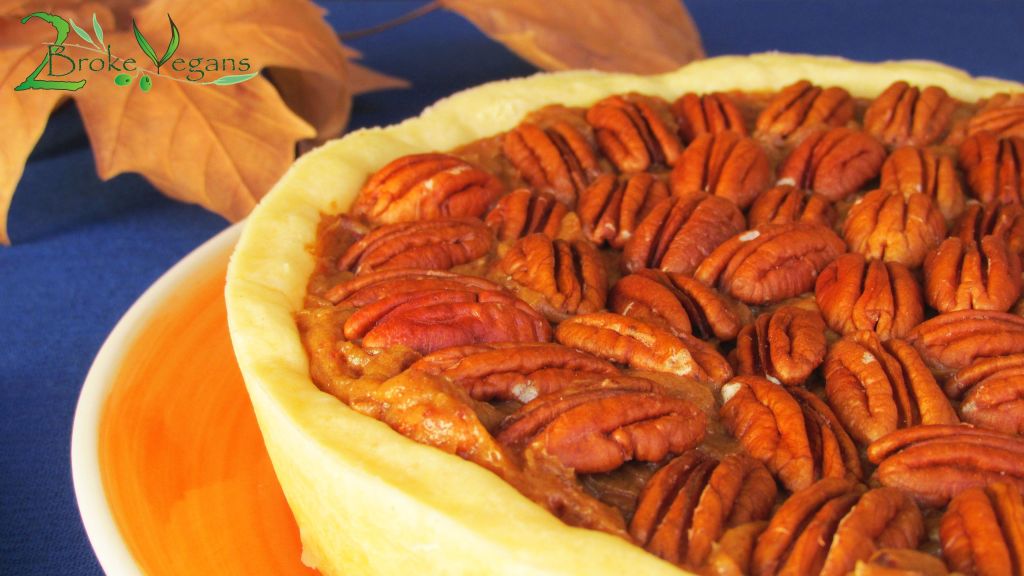 I loved pecan pie before I became vegan. Every holiday meal at Grandpa & Grandma's featured a choice of pecan pie or pumpkin pie for dessert. I will always remember walking into their warm house from the bitter cold November Minnesota weather every Thanksgiving. We were always greeted at the door by the warm smiles of my Grandparents and the unforgettable aroma of my Grandma's amazing cooking. I am still trying to figure out how any of us ever had any room left in our bellies for dessert! Yet, there always seemed to be just enough room left for a slice of pie. I love pumpkin pie as much as anybody possibly could but I always chose pecan pie because I liked it just a little bit more. I told Athanasia I wanted to veganize my favorite pie of all time so we made this delicious gluten free vegan pecan pie. This is how I celebrate my American roots for Thanksgiving here in Greece!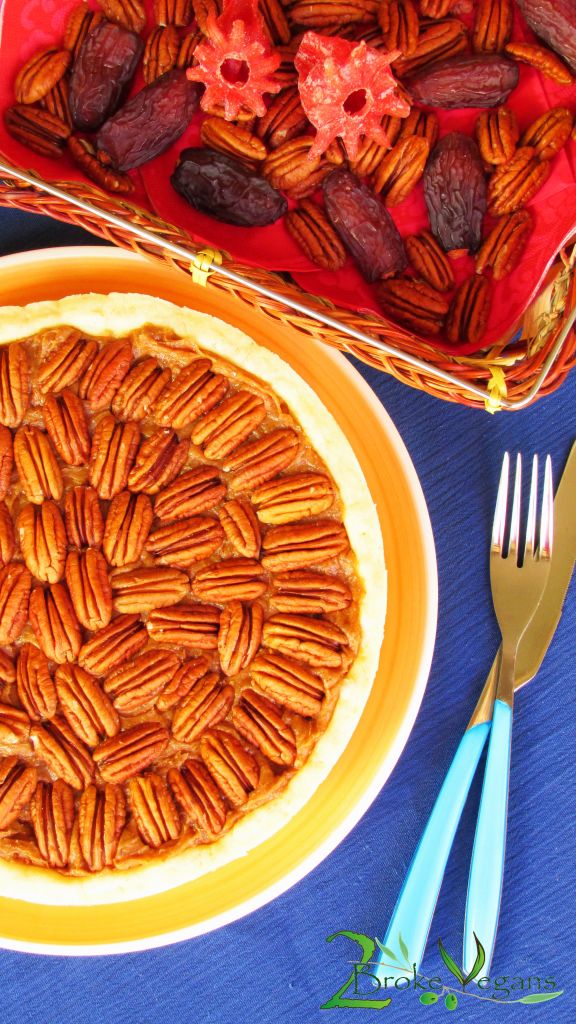 Last year we went on a bit of a sugar frenzy with our recipes so I wanted to do my best to make this recipe delicious without using as much. What? A low sugar gluten free vegan pecan pie? That's right! The only actual sugar in this entire recipe is a tablespoon in the crust. Also, since it's a vegan recipe it obviously has no eggs in it either! Here is how I did it:
Ingredients for the pie crust to fill a 9.5 inch (24 cm) pie pan (1.77″ or 4.5 cm deep):
2 1/2 cups of all purpose gluten free flour
1/2 cup of vegan butter
1/4 teaspoon of sea salt
1 Tablespoon of organic raw cane sugar
10 Tablespoons of cold water
Instructions for the pie crust:
Pre-heat oven to 150° C (302° F)
Mix together the vegan butter with all the ingredients except the water. Use your hands to mix it all together thoroughly until a slightly crumbly texture emerges.
Slowly add one tablespoon of water into the mixture at a time. After adding each tablespoon, completely mix it in using your hands before adding the next one.
Spread the crust dough into your pie pan. Use a fork to create a perforated bottom.
Bake the crust in the oven for 10 minutes. We used a convection oven.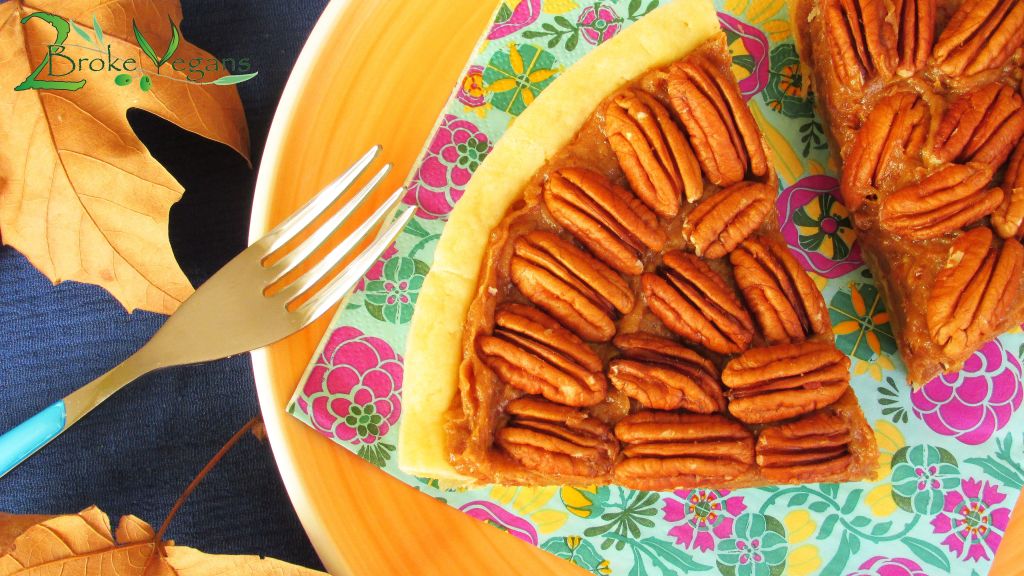 Ingredients for the filling:
6 cups of medjool dates (this is about 720 grams or 25.4 ounces)
1/2 teaspoon of cardamom powder
1 teaspoon of ground cinnamon
1/2 teaspoon of vanilla powder or 1 teaspoon of vanilla extract
1/8 teaspoon of ground nutmeg powder
1/8 teaspoon of ground allspice
1 teaspoon of sea salt
1/4 cup of 100% organic maple syrup
1 cup of chopped pecans
Whole pecans (to garnish on top of filling when done)
Instructions for the filling:
Remove pits from dates.
Soak dates in water for 1 hour.
Add all the ingredients except the pecans to a high powered blender. Blend on highest speed using a tamper to keep pushing ingredients down into the blades until smooth. To make this filling in a food processor you will need to soak the dates longer and make it in smaller batches.
Remove filling from blender and mix in the crushed pecans using a spoon.
Spread the filling into the pie crust.
Garnish the top of the filling with whole pecans and serve!
This pie is incredibly easy to make. It is really nice to only have to bake the crust and not the filling! Have a Happy Thanksgiving to all of you who celebrate it!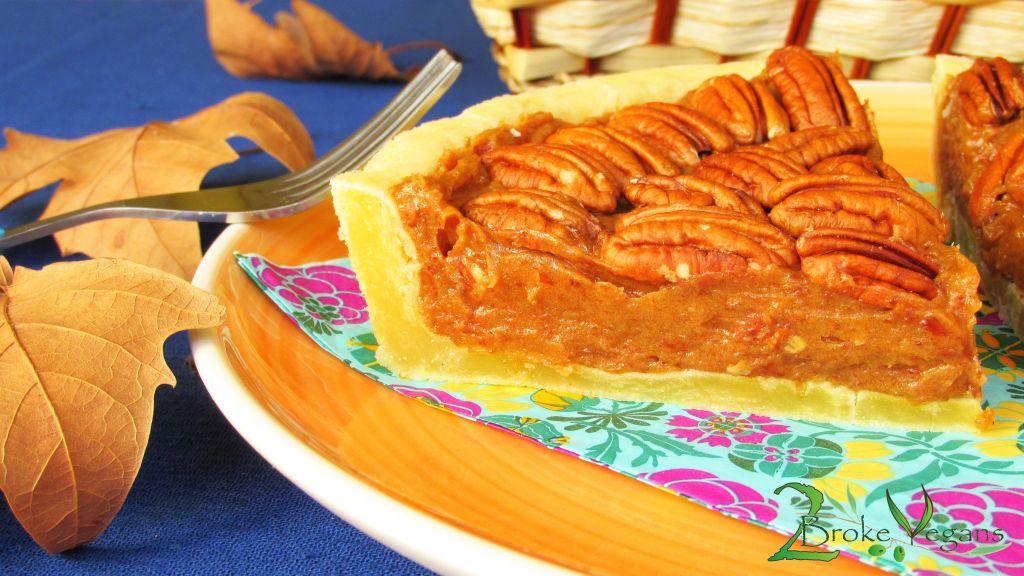 Do you need some other great gluten free vegan Thanksgiving, Christmas or other holiday recipes? Check these out:
Grandma's Yams – Gluten Free Vegan Mashed Sweet Potatoes (click here)
Vegan Scalloped Potatoes (click here)

Copyright protected by Digiprove © 2014