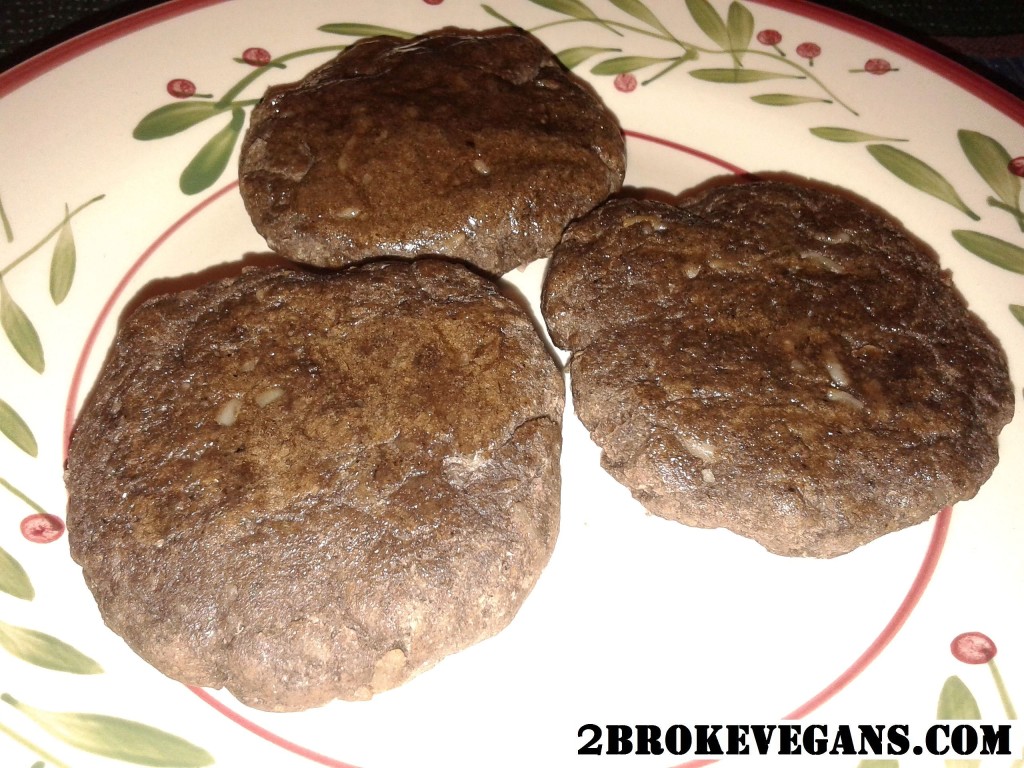 To celebrate the launch of our new 2brokevegans.com address we are going to share with you one of our proudest recipes! This one gets a little messy, but once you bite into one of these vegan burgers, you'll know it was all worth it!
First prepare your marinade:
5 teaspoons of olive oil
1/2 teaspoon of cumin
1 teaspoon of sea salt
1 teaspoon of vegan Worcester sauce
For the burgers you will need
500 grams of portobello mushrooms
1/2 cup of chopped or diced red onions
2 cups (270 grams) of brown rice, cooked
1/4 cup (40 grams) of buckwheat flour
Instructions:
Take 500 grams of portobello mushrooms, cut them into quarters and soak them in the marinade in a glass bowl, not in a plastic or aluminum container, for 2 to 8 hours (in the refrigerator).
Next, thinly coat the bottom of a large frying pan with olive oil and put the pan over medium-low heat. Place the marinated portobello mushrooms in the pan stirring occasionally for about 20 minutes (or until soft). Take off heat, set aside.
After mushrooms have cooled a bit, put them together with the rice in a high powered blender (we use a Vitamix) or a food processor. Blend or process until mixture is as smooth as you can get it. Take the now smooth mushroom and rice mixture and add it to a large mixing bowl. Add the onions into the mixture, stir them into it using a large, sturdy spoon. Finally, add the buckwheat flour and mix it in using your hands.
Put some gloves on if you have them and work the mixture. Squeeze it between your fingers, mash it, do whatever you can to make the flour mix completely into the mixture. This can get messy and takes some effort.
Take two racks out of your oven. Pre-heat the oven to 150° Celsius (302° F). Prepare two sheets of parchment paper to fit the racks you took out of the oven. Begin molding and shaping the burger mixture into burgers. I used my hands to do this but my mother uses the top opening of a glass mason jar to "cut" her burgers. You can use either method but I've used my hands so many times now that it comes easy for me. You should end up with close to 12 burgers.
Place the burgers in the oven for 10 minutes and take them out if you want to freeze* some of them to make later. A frozen burger takes 8 to 10 minutes at 150° C (302° F) to be ready. You can glaze some olive oil over the burger after cooking them. If you want to make a few burgers to eat now from the non-frozen mixture leave a few in the oven for an additional 10 minutes, a total of 20 minutes (depending on how tender you prefer them).
These are very good! Some people have said they are almost too convincing, but they are definitely 100% Vegan! Enjoy with ketchup, mustard, vegan mayonnaise, barbecue sauce vegan cheese, vegan bread, roasted potatoes etc. These burgers go great with our Simple Gluten Free Vegan Bread recipe!
*A tip for freezing burgers: cut the parchment paper to fit under each burger patty to keep them separated from freezing together! This way you have a piece of parchment paper all ready to use when cooking the frozen burger!